Saying Thank You to a Memorable Parkland Administrator
Earlier this month, the Trumpet Newspaper staff had the opportunity to interview retiring administrator Tracy Smith. We learned more about her career and her impact on the Parkland School District. 
Ms. Smith has had quite a long career in the public education system spanning over 30 years in total and 13 of those years spent at Parkland. During her time as an administrator, she has been able to serve as one of three core leadership team administrators and has been a liaison between curriculum and school operations departments. She was also the creator of an annual teacher technology conference offering free professional development to train teachers on practices of incorporating technology into the curriculum through programs such as Airtame, Schoology, and Clever. She has also been involved in high school-specific affairs, such as being one of the first administrators in PA to offer a certification pathway for students to become accredited in Microsoft IT courses and developing a computer science pathway of courses exposing students to different careers in computer science and engineering. On top of that, she helped oversee the creation of the Girls Who Code club along with the Parkland Ready 21 program that grants every Parkland student a personal device.
Before she started her career in public education, Ms. Smith wasn't exactly sure what she wanted to do after graduating high school, so she took an aptitude test and learned that she was highly proficient with technology. This sparked her interest in technology and she attended Virginia Tech. Shortly after college, Ms. Smith started a family and stated that "teaching would be a good way to combine my role as a parent and also my love of computer science. So I started teaching programming back in the '90s." When it comes to what her life has been like working for Parkland, Ms. Smith enjoys the fact that every day is different for her. She said that a typical day usually includes communicating with staff, analyzing statistics, and attending department meetings. Ms. Smith typically has meetings with every department twice a month and decides what needs to be addressed for the full board meetings that also occur twice a month. She pointed out that she does a great deal of listening and learning from people out in the field. Furthermore, she stressed that the infrastructure the district has implemented has "an excellent communication flow within the district" and that having numerous meetings is a good thing because "you are not putting fires out after the fact and that we are trying to get to the heart of the issues." 
Back in 2017, Ms. Smith was able to take part in the 1:1 initiative. Ms. Smith believes that the 1:1 initiative, also known as Parkland Ready 21, wasn't just about Chromebooks. She emphasized that she "worked with administrators, teachers, and students to create a learning environment that was more student-centered rather than teacher-centered." Furthermore, she said, "using technology can help enhance relationships with teachers, and although teachers' use of technology cannot replace the wonderful teachers at PHS, it can amplify their ability to reach their students." The 1:1 initiative was a long-term project; it took two years to plan and three years to implement. Ms. Smith laughed and said, "Ironically, Parkland 21 helped with the year 2021. We made sure we had the network infrastructure, the WiFi infrastructure, and training for teachers, so when we rolled out the devices it was purposefully used and it would be used to enhance instruction." 
Another major accomplishment Ms. Smith was a part of was Girls Who Code, a newer outlet for those interested in coding and technology to network with like-minded students and professionals across the Parkland School District. What started as a new middle school club turned into a top-trending outreach. When asked why the middle school was the first to start the club, Ms. Smith stated that it was "because that seems to be the age when girls tend to develop their sense of themselves, whether it's what they can do vs what they can't do. We had Uma Purani, a student from Springhouse at the time, approach me to build this club at Springhouse, and then we did it at Orefield. Then, that grew and now we have a coding club at the high school." This club eventually grew to the point where there are now three student leaders at the high school -Uma Purani, Aishwarya Suresh, and Reva Gandhi- and they are leading 50 students in grades 5-8 and they host virtual afternoon workshops every Wednesday. Ms. Smith has been known for loving to work with kids and said "I think it's great I was able to connect with kids again and even if technology has made a change, kids are still kids. They make their corny jokes and it was just nice to see and have that relationship again with kids. Now, it's so great that they are adept at what they do because I kind of just sit back and let them do their thing with the group and I really enjoy watching them teach." 
With Covid-19 striking the world last year, technology made an everlasting impact on society as a whole, especially in the education system. Many schools were shut down for months on end and were in panic mode due to limited resources. Without the proper infrastructure, education outlets would take a plunge. Thankfully, Ms. Smith, along with other administrators, made sure that the proper infrastructure was created. When asked about the impact of the past year on education along with technology, Ms. Smith said "We made sure that every student had a device. We had been chipping away at the digital equity plan for years. To me, that's just unacceptable for even one student to not have the resources they need to be successful, so in that way, that's good that we connected everyone." Her team was able to assign teacher leaders known as tech mentors at each school in the district. Before the pandemic, there were only 21, but now, there is 45 spread all throughout the school district. The tech mentors she helped train ran workshops for teachers during the pandemic every day from 2:15-3:00. Ms. Smith also said, "I have seen that [technology] can build community, it can build relationships, it can build enhanced communication, and it's not the end all be all of everything. I think our students should stress having relationships with people and connecting and not just the technology." She also noted how they focus mainly on the teachers and how to make tech less complex for them in order to create a healthier environment. Different programs such as the Clever Portal and Airtame took years to perfect, but now they are used on a daily basis in order to maintain proper speed in learning and projection. When speaking about how grateful she was for the technology department and its achievements, Ms. Smith said "We're always looking for things that can help our teachers to do what they do best and not so much on having to fix the technology. We're very proud of the technology department that we have here."
When talking about her favorite memories in the district, Ms. Smith threw a wild story at the team that was sure to entertain. She noted that when Mr. Snisack first became the superintendent, he participated in a play with other administrators called Hello Dolly and she got to see them sing and dance in front of an audience. While the whole story was quite funny and memorable, Ms. Smith said that what made it memorable was that "he was definitely out of his element and he pushed me to be out of my element a little bit over the years. I remember thinking 'Wow, he is a person that is really courageous' and he definitely did something out of his comfort zone, but he knew it would be good for the community and the students to see him taking a risk." 
Lastly, Ms. Smith gave some very key points of motivation that she has learned over the years from being in the technology department of a public education system. She strongly encouraged becoming educated in technology due to the vast amount of opportunity it has to offer. When it comes to the everlasting and rapidly growing industry, Ms. Smith said, "It is always changing. I like that I am always learning and I get to be in a field that's very dynamic. So, either way, you can't go wrong. There are tons of opportunities in any area of technology. There is really no field that you can think of that probably will not have some degree of technology in it." She noted about the trends in technology always changing on a rapid basis through sectors such as artificial intelligence, data science, and data analytics. Since those fields are currently on the rise, the school district is trying to find ways to implement those tech trends in order to stay innovative and up to date. In terms of education and the people involved, Ms. Smith said, "One thing about being in education is that you are surrounded by people who are caring and kind and giving. You know that you are making a positive impact. When I work with kids and I do little or big things, I know that I am ultimately having an impact on the future in a positive way. I don't think you can say that about every profession, but you can definitely say that about education." With managing and working with kids and her peers alike on a daily basis, Ms. Smith understands the importance of influence and molding minds to become innovators in the future. 
To view parts of this live interview, visit our instagram page at phstrumpet.
https://www.instagram.com/tv/CPQ5HaTh_N5/?utm_medium=copy_link
Leave a Comment
About the Contributor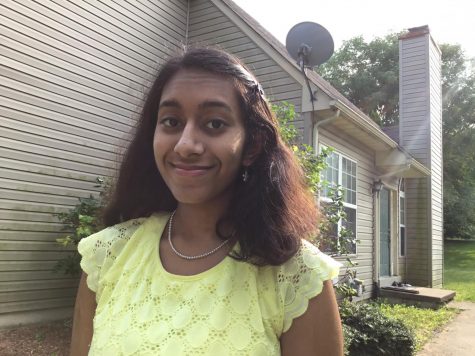 Shaiyan Feisal, News Editor
Shaiyan is a senior, and this is her second year in the Trumpet. She enjoys writing news, opinion, and health articles. She's in Girl Scouts and various...