Giving Back: Parkland Eagle Scouts Aid their Communities
What is the first word that comes to mind when someone says "Boy Scouts?" For most people, knot tying and camping would be their answer. There is more to Boy Scouts, however, than outdoor activities. For a select group of Boy Scouts, their years of hard work and service culminate in one of the greatest honors, becoming an Eagle Scout.
According to Bryan on Scouting, only six percent of Boy Scouts earn the rank of Eagle Scout. A Boy Scout must go through a lengthy review process in order to be considered, including obtaining merit badges and completing a substantial service project. After years of dedication to being a Scout, three of PHS's own are in the process of planning and completing their service projects.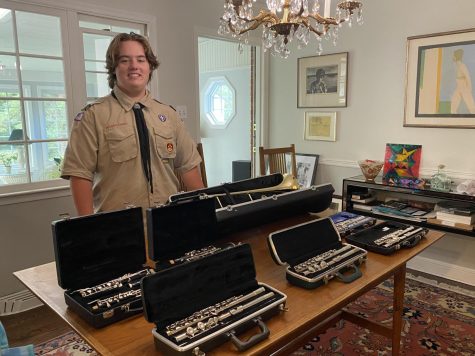 Senior Gabriel Gardner chose to give back to his community by organizing an instrument drive for William Allen High School. "The goal of the project was to collect a substantial amount of instruments through donations and to restore them into playable condition using money granted to me through TeenWorks." TeenWorks is a Lehigh Valley organization that provides grants up to $1,000 to teens completing community service projects.
Rahul Inaganti, another PHS senior, is planning to renovate his local Hindu Temple for his service project; "I'm going to be painting the walls, installing new shelves, replacing ceiling tiles, and purchasing new furniture."
Fyodor D'Souza, junior, is currently creating a plan for his Eagle project; "My project is rebuilding a bridge on the disc golf course at Covered Bridge Park. This will include stripping the preexisting wood and laying out fresh wood, staining the bridge, and possibly adding a cobblestone walkway to make a safer entrance to the bridge," D'Souza said. 
When asked how he thought his project would have a positive effect on the community, Gardner responds, "With the help of my drive, hopefully the kids who want to get involved but don't have the resources to have a way to get one of those instruments and join the music education program at William Allen."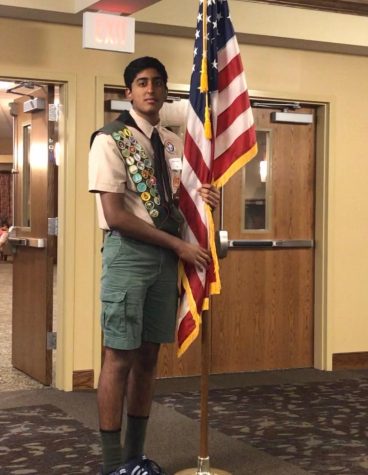 Inaganti writes that he believes his project will be beneficial to society because his "temple's library is a great source of religious and cultural texts that is open to the public. It is frequently used by the Temple's Sunday School program to educate children on their heritage."
D'Souza thinks his project would make a great contribution to his community; "Parks are one of the greatest gifts we have and it can help unify us as we meet there for various local sporting events, public events, picnics, fundraisers, the list goes on and on. Any place there are people is an opportunity to open your eyes, make friends, and have a great day and I feel like that's exactly what South Whitehall embodies." He also writes, "My project can help add something special to the park."
Boy Scouts as well as their Eagle Projects have greatly impacted Gardner, Inaganti, and D'Souza throughout their childhood and adolescence. Gardner, who is a self-described introvert, said that, "I think the largest impact my project has had on me is increasing my ability to step outside of my comfort zone and become a little bit more of an extroverted person." Inaganti's memorable time with the Boy Scouts will be coming to an end, like Gardner's, following his graduation this spring. When asked about what he will miss most about Scouts, he mentioned, "The part of Boy Scouts that I will miss the most is definitely the people I have met over the years." D'Souza still has time before his Scouts journey is over, but as he looked back on his time spent in Scouting, he said "Boy Scouts have impacted my life in a variety of ways, and while around the country interest in it has fallen over the years I believe it provides an immeasurable experience and training for success as we grow older, and more importantly how to become the best possible member of society we can be." 
Boy Scouts has clearly affected these boys in more ways than one. Not only were Gardner, Inaganti, and D'Souza able to give back to their communities through Scouting, they were also able to grow and mature into responsible young adults.
Leave a Comment
About the Contributor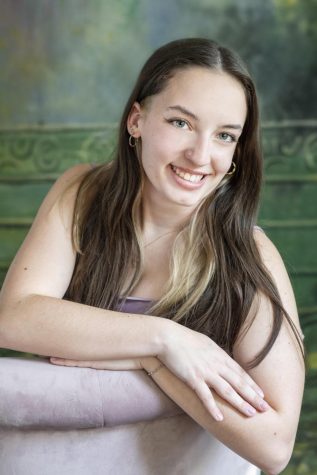 Gabby Landis, Opinion and Entertainment Editor


Gabby is a senior, and this is her second year writing for the Parkland Trumpet. She enjoys writing about politics and current events. She is...