Answering Your Questions About College Applications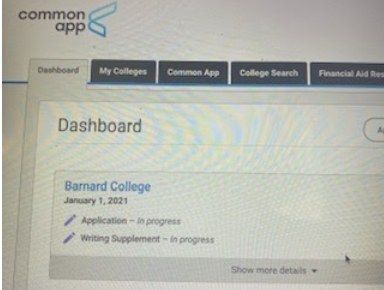 As a senior, I've had to spend countless hours researching the college application process. I've spent time reading various articles, watching college advice youtube videos, and getting help from those who've already attended college. Because of this, I feel as though I'm in a position where I can give good and accurate advice concerning college applications. Although this might seem stressful now, in the end, each and every one of you will end up in the place you were meant to be in. 
Q#1- "When should I start applying, and what types of deadlines are there?"- asks junior Cloie Hummel. 
The best time to start applying is the summer before your senior year. This doesn't necessarily mean submitting your applications, but starting to work on your essays will give you a head start in the entire process. Be aware that most colleges and the common application don't open up their applications or release their essays until August 1st.  However, many colleges and common applications typically use their essays from the years before. Another great way to use your summers is by researching colleges you're interested in. Once you've narrowed your list down, you'll be ready to work on your personal statement and supplementals. 
Next, concerning deadlines, there's a variation: early action, early decision, regular decision, and rolling admissions.  The most common type of deadline is regular decision, which typically resides in the month of January. After you apply for regular decision, you'll usually receive your acceptance letter in the spring (March or April). When applying regular decision, there is no limit to the number of schools you can apply to, which gives you the freedom and flexibility to work on your essays and applications throughout the fall and winter months. To continue, early decision is a type of deadline that allows students to apply early (November/December usually) but binds the student to the school. Binding meaning that when you're accepted to the school, you are obliged to attend. This is a great option if you have a dream school, and know you're able to afford tuition costs. This is not a great option if you're not 100% settled on a school, or you know you won't be able to afford a school without financial aid. If you're rejected early decision, you typically cannot reapply to that school in the regular decision pool. However, if you are deferred, you have the option of applying regular decision. Furthermore, early action is similar to early decision in that you're applying early and showing interest in specific schools. What's different about the two is that early action is usually not binding, meaning you can apply to multiple schools as an early action applicant. The last type of deadline is rolling admissions, which is a somewhat uncommon deadline in the admissions process. Rolling admissions have the same deadline as regular decision. However, they are different in that rolling admissions means you can apply to a school whenever and receive an acceptance letter a few weeks later. 
Q#2- How many colleges should I apply to, and how do I decide what colleges to apply to? 
Deciding how many colleges to apply to depends on the cost of application fees (if there is one), your interest in the schools if a school has your major (unless you're undecided), and if you can afford to attend a school. According to collegevine.com, "most students apply to 7-10 schools" and "usually you want to apply to 2-3 safety schools, 3-4 target schools, and 2-3 reach schools." 
Deciding what colleges to apply to is a long and strenuous process, but in the end, it'll be worth it, because you will have started your application. A great place to start is deciding whether you want to attend a community college (2 years) or a 4-year college. This will ultimately depend on what you want to major in, what you can afford, and if you're comfortable living away from home. After this, you should ask yourself what you want from a college, and what a college can offer you. For example, someone who wants a liberal arts education would look at colleges like Pomona and Williams, not CalTech. The main things you should consider are liberal arts/research, cost of tuition, urban/suburban/beach/rural, student life, majors offered, study abroad opportunities, types of classes offered, the campus, retention rate, acceptance rate, and career support. After you have all the basic information down on an excel sheet or google doc, go more in-depth into the 10-15 colleges (or whatever number you decided on) you chose. This means exploring their websites, talking to current students and your admissions counselor, and attending virtual information sessions. 
Q#3- How do I fill out the common application, and what do I need to apply to college?
To fill out the common application, you first need to make an account. Once you've done this, filling out the common application is quite simple. First start by adding colleges by using the tab called "College Search." You're then able to see all the colleges you added and their requirements, test-optional policy, deadlines, and supplemental essays. Before doing college-specific questions, answer the more general questions found on the tab titled "Common App." Here, you'll find questions concerning your contact information, background, family, education, testing, activities, and essays. The two sections that will most likely take up the most of your time are the Activities and Writing sections. Activities will be where you list your extracurricular activities, work experience, research experience, internships, athletic involvement, responsibilities, etc. However, you will have to narrow your list down to 10. For this section, make sure to choose activities that reflect your interests, and ones that you've put a lot of time into. For example, when choosing to put Track/Field or Scientific research done at a university, narrow down your choice by looking at hours spent doing the activities, your leadership positions, and events you led or organized. Next, for the Writing section, you will have to choose one out of the seven common app essay topics. There's a wide range, though, so feel free to start writing about whatever topic you feel reflects your identity best. 
Besides filling out the common application and writing your essays, you'll also need a few other materials to apply to college. This will include your transcript, a mid-year report, test scores (if you choose to submit them), a secondary school report, teacher references, and financial aid forms (FAFSA). 
Q#4- "When should I ask teachers to write recommendations? How many should I get? And who should I get it from?" asks senior Dan Gorrou. 
Teacher recommendations are an extremely important element of your college application; they show how you work in a collaborative setting. Colleges want to see participation and curiosity, and one of the ways to see this is through those who see you everyday—your teachers. It's best to ask one to three (check colleges for requirements) teachers during the summer before your senior year. Some teachers ask that you fill out information about yourself before they write the letter, so it's better to ask sooner than later. Most colleges want to see recommendations from core subject teachers, but it would be best if they were from subjects that you're interested in pursuing as a major. For example, if you're planning to apply as an English major, you should get a recommendation from an English teacher. Additionally, if you're an engineering major, some colleges require that you get one or both of your recommendations from a math or science teacher. Both recommendations are highly suggested to be from a junior year teacher. This will show the most growth in your application. 
https://resources.finalsite.net/images/v1598013723/parklandsdorg/pysne6papsj2nt42vstb/Recommendation_Request.pdf
Q#5- What does test-optional mean? And if I do decide to include my test scores, what tests are most important to take? 
Due to the COVID-19 situation, many schools have decided to go full-online for the time being. Because of this, it has become very difficult for students to take the typically required SAT and ACT tests, subject tests, and AP tests. For this reason, almost every college in the country has decided to go test-optional. Whether it be for this application year, three years, or permanently, colleges are now making it so that not submitting test scores does not affect your application. Many schools, such as Emory University in Georgia, have emphasized that submitting or not submitting scores will have no major impact on your application. However, many have still recommended that you submit scores if you expect your application to be weak without it. According to collegedata.com, "So without test scores, it's likely that other parts of your application—your grades and grade trends, essays, extracurricular activities, and achievements—must be strong enough to make the college want to admit you." 
Q#6- What are fee waivers? And how do I get them? 
There are a few types of fee waivers. Through the common application, you can get a fee waiver that waives application fees for all schools. This requires that you received an SAT or ACT testing fee waiver, are in enrolled in or eligible to participate in the Federal Free or Reduced Price Lunch Program, have a family income that falls within the Income Eligibility Guidelines set by the USDA Food and Nutrition Service, are enrolled in a federal, state, or local program that aids students from low-income families, receive public financial assistance, live in a federally subsidized public housing or foster home, are a ward of the state or an orphan or can provide a statement from a school official expressing your financial need. 
If none of these are applicable, you can still receive fee waivers from some of the schools you apply to. There are a few ways to do this. First, many colleges like Tufts, Barnard, and Emory offer programs during the fall for students interested in diversity at the college. These programs are especially geared toward students who come from underrepresented backgrounds, for example, students of color, students who are low-income, and students who are a part of the LGBTQ+ community. One specific program is Tufts Voices, which, for all applicants, offers a fee waiver when applying to Tufts. Additionally, some schools, such as UChicago, will simply give you a fee waiver if you show financial need. This can be done by emailing an admissions counselor or filling out information for a mailing list. Once you've been told that you have a fee waiver to a specific school, make sure to click "yes" when a specific school asks you in the Common Application if you've received a waiver from them. 
Q#7- How do I determine if I can afford to attend a school? How does financial aid work? 
Financial aid can range from loans to grants, to scholarships (outside or from the school itself). College, overall, is very expensive with a price tag ranging from $5,000 for community colleges to $75,000 for out-of-state private schools. In past years, most students relied on loans, which often leads to a huge financial debt once they graduate. However, recent developments have shown less reliance on loans and more use of grants and scholarships, both of which you don't need to pay back. 
The first step in receiving financial aid is to determine how much aid you need by filling out the FAFSA form. The FAFSA opens on October 1st and asks about your family's income, your tax records, etc. to find out how much financial need you are in. For some schools, if your family makes below a certain price, you get full tuition or full tuition and room and board. For instance, at UChicago, if your family makes below $125,000 you receive full tuition. After submitting the FAFSA, most schools will require that you complete the CSS form. This is important to determine how to give out financial aid. 
So what do you do if your family makes above the threshold to receive full tuition, but you know you still can't afford it? The best route to take is scholarships. There are many sources that require no essays, or a short paragraph for you to earn money to use towards college. Once a month, Niche.com has a $2000 no essay scholarship. Additionally, there are also larger scholarships, such as the Voices of Democracy one where the first-place winner receives $30,000. 
Q#8- How do I write the essays? What are supplemental essays, and how do I write them? 
Depending on how many colleges you plan to apply to, you will have your important 650-word personal statement and a few supplementals. First, for the personal statement, start by brainstorming. The best thing to do is not overthink it and write what you want to write. Once you've come up with a few ideas, grab a composition book, and write an essay once a day, twice a week, or whenever is best for you. These are drafts, so they don't have to be perfect. Overall, this process will help you see what essay you have the most information for and the most interest in. The #1 advice that all colleges give is to be authentic. Colleges don't want to read an essay about you complaining about your life. The main purpose of these essays is to read about growth and how you overcame difficulties in your life. One last piece of advice is to focus on a specific event in your life and bring meaning to it. Connect it to a bigger theme. However, be sure to avoid cliches, such as starting your essay with a quote. Once you've done this, you can go back and add more imagery and stronger diction. 
After you've written your personal statement, you'll want to start your supplemental essays. If you're applying to more than ten schools, a good idea is making a google document to put all your supplemental essay topics on. This will help you with organizing your thoughts. To start writing your supplementals, you should first look at your deadlines to see which essays need to be written first. For instance, if you are applying early action in November, you'll want to write the essays for that deadline before any regular decision schools. One important supplemental essay that is commonly used by colleges is the "Why Us?" essay. This essay asks why you feel the school is a great fit for you AND why you're a fit for the school. You shouldn't use this essay to talk about the area or about the student to professor ratio, mainly because that could apply to many schools. This essay requires that you do some research and focus on the specifics of the school that other schools don't have. For example, is there a specific course you're interested in? A type of club you want to join? A major that a school offers that other schools don't? In addition to explaining why you want to attend a school, you should also explain how you'll contribute to the community. What are you interested in? What type of research do you want to engage in? Is there a club you want to start? This essay can really help your application, because it'll show you've done your research and that you'll fit in with the school. 
Q#9- What is demonstrated interest, what schools consider it, and how do I show it? 
According to compassprep.com, "Demonstrated interest is the degree to which you show a college that you are sincerely interested in coming to their school. It has become an important, subtle tool that colleges use to efficiently and accurately enroll a specific target number of students each year." Demonstrated interest is an aspect that many schools look at, excluding most Ivy League schools. This is done to show that you're genuinely interested in attending a school and have shown your interest. 
Usually demonstrated interest could be shown by attending a tour at the school, attending a class, or talking to an admissions counselor. However, due to COVID-19, the situation has changed immensely. Despite not being able to physically go to a college, many colleges offer many virtual ways to show your interest. For example, some colleges offer virtual information sessions, virtual model classes, and student chats. Additionally, you're still able to talk to your admissions counselor by looking up your regional representative on the school's website. Besides these measures, some schools are offering interviews. This can add a lot to your application. 
Q#10- What's a gap year? What are the benefits and downsides of it? 
Due to COVID-19, and the requirement of online classes at many schools, many students have taken a gap year. A gap year is, simply put, taking a year off before college to either volunteer, work, or take a break. Besides taking a gap year due to a nation-wide epidemic, some students take one because they need a break. 
Some of the benefits of taking a gap year is working and having more money to put towards college, and focusing on yourself before starting the life-changing experience of college. Some students also use the opportunity to intern or even travel the world. 
Despite these benefits, there are also a few downsides to taking a year off. One of the most common downsides is that some students lose momentum and never attend college after their gap year is finished. However, if you're someone who's constantly motivated and constantly has their goals in mind, this shouldn't be an issue.
Leave a Comment