Adjusting to Online Learning through the Eyes of Teachers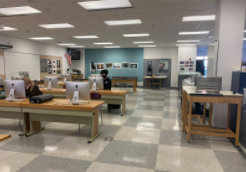 Students across the nation are well aware of the drastic effects that the Coronavirus pandemic has had on their education. It has dramatically changed the meaning of a traditional classroom environment as school districts become more reliant on the use of technology to accommodate learning from home. What many students tend to overlook is the effect it has had on teachers. 
Teachers understand that this pandemic has targeted individual families in a multitude of ways, and they have been able to listen to students and help them be successful in school. Likewise, students have an obligation to show the same sense of understanding to their teachers. 
When asked what it was that they wish their students understood, these teachers gave insightful, and meaningful responses that deserve recognition.
Parkland Spanish Teacher Señora O'Donnell discloses, "Teachers create many things for their courses. Sometimes it takes hours to make a certain activity or plan out a class that flows the proper way. It is difficult when students do not participate or play an active part in the class and teachers cannot gauge their learning because of the non-participation. A simple comment or reaction in class helps the teacher to understand your thinking and makes the class more interesting for everyone. Everyone can learn more from your classmates as well. Teachers need a two way conversation and appreciate students taking an active part in their education."
World Studies Teacher Mr. Crawford supplemented Señora O'Donnells point; "We want their input, whether in class or on assignments. When students are blowing class discussion off, either in person with google.sites games or by logging and going and doing something else, it is a complete waste of all of our time. I often plan lessons around questions and need the responses, the understanding of students to build the actual class. We want your input, not merely your presence."
Mr. Laub, a biology teacher at Parkland, details the immense amount of effort teachers have been putting into their work. 
"Teaching is a passion. It is not a profession that you randomly stumble into," he explained,  "All teachers bring a certain amount of personal investment into what they do.  Your teachers are investing everything they can into this new educational setting.  We want to be the best that we can be for our students and help them get through this unprecedented time."
English Teacher Mrs. Smith expressed her gratitude for her hardworking students. 
She wanted them to know that she thinks, "the students are the best part of the whole situation. They are intelligent, motivated, self-disciplined, and working with this system as we are. I do think they understand the frustrations and the difficulties. They want to learn. They want to succeed. We all do have a common goal. I feel very blessed every day -they inspire me to keep trying."
The people who make learning possible for students had to adapt rapidly to the concept of hybrid and online learning. They have had to adjust, or even completely change, the way they make schedules, take attendance, relay information, hand out materials, and grade assignments. To say the least, Parkland teachers have been working especially hard to ensure that all their students can receive the best education possible in unprecedented times such as this. 
Señora O'Donnell summarized just how this has made meeting the needs of all students extremely difficult for teachers to achieve. 
"The most challenging part has been trying to meet the needs of all students while converting all curricular materials to a digital platform. All of our courses needed to convert to online courses almost overnight," she explained, "Teachers will do what we need to because our priority is the education of our students. Since teachers many times teach three different courses and need time to plan and create, the workload is often 12-16 hour days just to get everything done for all students."
Mr. Laub further described how time, or lack thereof, has also played a role in making it difficult to create an accessible learning curriculum.
"The most challenging part of the adjustment to Hybrid Learning is 'Time', the need to find time to do everything that you want to do," he described,  "I want my students to be successful in all settings.  That means that I must deliver a platform that is transparent, but challenging to the student.  This requires "Time" to make the necessary changes from what we have traditionally done in a traditional setting and make it just as effective in the new online setting."
Mr. Crawford also specified that the online format itself has been one of his greatest challenges as a teacher. 
"I've always liked to have the give and take of the classroom," he said, "The question and answer, or discussion over difficult or challenging concepts and this environment has challenged that."
Mrs. Smith also believes that the most difficult part of online learning is not being able to have the same in-person interactions with her students. 
She stated, "First of all, I love teaching. I love love working with students and listening to their thoughts, their ideas, and their insights. I miss that the most. I want to hear them-their voices.  In English, I want to hear their insights. In theater, I want to hear them sing. Unfortunately, with the masks, and online learning, I feel like I am missing some of that. I also miss the laughter."
In order to overcome these obstacles, teachers have had to utilize many online resources, such as Schoology, Google Meets, and many others. While some teachers use one application predominantly, many believe that using multiple different applications is the most beneficial way to make effective assignments. 
Mrs. Smith details the challenges of navigating these platforms in order to find a way to make them the most effective for her students. 
She described, "As a teacher, I want to provide exciting lessons and materials that challenge all students. I hear from many students that they feel that this environment has created a lot of "things to check off" or completion rather than project, research-based, developmental lessons," she continues, " I know myself I have a lot more-okay to read this and answer these questions. That might have been a simple check for understanding at the end of a lesson-verbally and not a formal assessment."
She then described another aspect of E-Learning that she had to overcome.
"Another challenge is making sure that all of the materials are uploaded in an easy to access manner and that the lesson is coherent…. i.e. directions. And yet, another challenge is providing feedback. For example, I teach Seniors and the college essay is very important to them. Many students write multiple drafts. In a "normal" year, I would conference with students individually as they needed during study halls, lunch periods, before school, and after school. Now, I need to set up an individual google meet, and try to work through their essays that way. It is much more time-consuming and as students are trying to revise their essays, we may have 7-8 emails back and forth and 2-3 google meets. I am writing everything out instead of a "Perhaps try less adjectives and a stronger verb here." English and Theater are also very collaborative subjects where students' shared insights, discussions, and thoughts are as important as any lesson I would impart. I miss that-their voices, their thoughts, their questions." (Elizabeth Smith)
Mrs. Smith also commented, "I  think we still have a very long way to go to replicate more of the "true" classroom atmosphere and I feel that I lose a lot of valuable class time trying to set up the computer, the monitor, the white board, the microphone, the Google meet, for every class as I move about the building.  But I am very proud of the students who are very very patient as we navigate this new world."
Mr. Laub highlighted, "Online applications are evolving. There is so much out there, it's hard to try everything.  However, eventually you do expand your tool chest.  Initially, I was heavy into Kami sheets and Ed Puzzles.  Then you move onto Screen Casts and prepare assessments through Schoology.  Now, I am moving on past Zoom and using Goggle Meets.  They all have their place, but I am still searching for the right mix."
Señora O'Donnell explained how she does not have a preference when it comes to any specific application, rather it has to do with the specific assignment.
"For me it is whatever is the most effective and engaging tool to use to reach the instructional objectives of that specific lesson," she discloses, "Also, I believe variety is important."
Mr. Crawford, on the other hand, explained that he is most comfortable using Schoology, as it is an application he had already been familiar with. 
"Schoology is the thing I've used the most," he clarifies, "As the tool we've been using for a while, this environment has allowed me to use it more, and in different ways, than I have before."
Hybrid and Online learning has been a dramatic shift in the natural development of our education system. It has changed the way people learn and teach, and very likely will change the course of education in the future. In order to ensure the success of the education system, it is  important for all people who are a part of it, students and teachers alike, to have patience, compassion, and the capacity to understand how others are being affected. 
Leave a Comment