America Mourns the Loss of Ruth Bader Ginsburg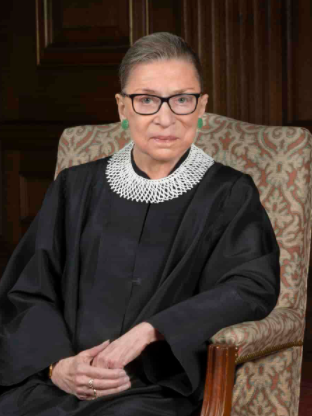 On September 18, America lost a revolutionary woman. Many know Ruth Bader Ginsburg as just a Supreme Court Justice. Her legacy, however, extends far beyond that fact. Throughout her entire career, Ginsburg fought tirelessly to improve the lives of not only women but all people. She broke many glass ceilings throughout her lifetime, and her impact will be felt far beyond the end of her life.
Ginsburg, born Joan Ruth Bader, was born on March 15, 1933, in Brooklyn, NY. Her mother was a great influence on her and encouraged her to pursue an education. Unfortunately, she passed away the day before Ginsburg's high school graduation.1 Ginsburg went on to graduate from Cornell University at the top of her class in 1954. Following graduation, she married Marty Ginsburg in 1954 and gave birth to her daughter Jane in 1955.4
Ginsburg attended Harvard Law School and, according to Oyez.org, she was one of nine women in her five hundred person class.7 Because she was a woman, she faced gender discrimination during her time in school and was often criticized for "taking a man's spot" at Harvard. Despite this, she was able to become the first female member of the Harvard Law Review, maintained the top position in her class while taking care of her husband when he was battling testicular cancer, and juggled motherhood alongside her studies.4 Marty eventually recovered, and because he started working in New York City, Ginsburg transferred to Columbia Law School for her last year of law school. She was also a member of the law review there and graduated first in her class in 1959.7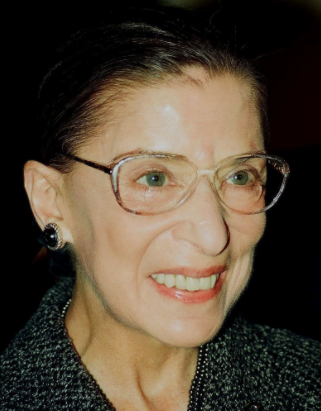 Following law school, Ginsburg became a clerk for U.S. District Judge Edmund L. Palmieri until she began teaching law at Rutgers University's Law School, and then at Columbia, where she became the first female tenured professor.1 Ginsburg was appointed to the U.S. Court of Appeals in Washington D.C. by President Carter in 1980 and finally was appointed to the Supreme Court by President Clinton in 1997.2 She was the second-ever female justice and the first Jewish female justice ever appointed.3
Since her appointment on the court, Ginsburg was a part of numerous landmark court cases that were beneficial for both women and men. In United States v. Virginia, she found that the Virginia Military Institute was violating the protection clause of the 14th Amendment because of their refusal to admit women to the school. She argued against the overturning of Section 5 of the Voting Rights Act, which was designed to protect voters in certain southern states from voter suppression, in her dissent for Shelby County v. Holder. She blocked legislation allowing certain non-citizens to be deported in Sessions v. Dimaya. In Obergefell v. Hodges, she fought for the right to marry for LGBTQ+ Americans. In Olmstead v. LC, she advocated for the rights of disabled Americans and fought to erase the stigma behind disabilities and mental illnesses in her majority opinion for the case.11
Ginsburg was also a champion of women's rights. She is credited with paving the way for the Equal Credit Opportunity Act, which gave women the right to apply for credit and mortgages without needing a male co-signer. She helped women get closer to achieving equal pay in Ledbetter v. Goodyear Tire & Rubber Company, and protected the right to an abortion by voting to preserve Roe v. Wade. She battled to protect working pregnant women and argued that to discriminate against them, like firing them for being pregnant for example, was unconstitutional. When Duren v. Missouri was put in front of the court in 1979, Ginsburg, who at the time represented Billy Duren in the case, argued that women should serve on juries because their opinions are equally as valuable as men's.5 In 1972, she founded the Women's Rights Project, an organization tied to the American Civil Liberties Union (ACLU) that advocates for women's rights in court.11
Ginsburg passed away on Friday, September 18, 2020, at the age of 87 from complications of metastatic pancreatic cancer. This was the fifth time she had developed cancer in her lifetime.2 She will be laid to rest in the Capitol, and according to USA Today, Ginsburg is the first woman, and the first Jewish person, to ever have the honor of being laid in state there.5 She died at the beginning of Rosh Hashanah, which holds massive cultural significance to the Jewish community because of it being one of the holiest days in Judaism. Ginsburg is considered "tzadik" for this reason, meaning she is the most righteous and just.3
Immediately following her death, the public came together to mourn her. Currently, President Trump is pushing to fill her seat on the court before the election despite Ginsburg's dying wish. "My most fervent wish is that I will not be replaced until a new president is installed," said Ginsburg to her granddaughter days before her passing.10 Trump's decision has come with backlash, as he and certain notable Republican Senators, such as Mitch McConnell, are not following the precedent that was set forth in 2016 for President Obama. The same Republican Senators that are encouraging Trump to fill the seat did not allow President Obama to fill the seat of Justice Antonin Scalia when he passed away in 2016.10
Amy Coney Barrett, Trump's nominee for the Supreme Court, has consistently voted for incredibly conservative policies. In many ways, she is considered Ginsburg's polar opposite. She voted to have a case regarding the passing of a law making it easier for minors to access abortion in Indiana reheard in court. Barrett argued that non-violent felons should still be able to own guns in her dissent for Kanter v. Barr.6 She considered the Affordable Care Act unconstitutional and has been critical of Chief Justice John Roberts' decision to uphold it.9
Pro-choice advocates, women, BIPOC, and LGBTQ+ Americans are now left with the possibility that a conservative justice will be placed on the court by Trump, which would skew the court to the right by a margin of 6-3 and put many landmark cases involving equity and minority protections at stake for the future.
Despite the uncertainty surrounding America's current circumstances, the life and legacy of the "Notorious RBG"8 can never be forgotten. The mark she has left on America is everlasting and she will be, and already is, greatly missed. She was a hero for women and girls everywhere and will be for many lifetimes.
1Biography.com Editors. "Ruth Bader Ginsburg." Biography.com, A&E Networks Television, 19 Sept. 2020, www.biography.com/law-figure/ruth-bader-ginsburg. 
2CNN Editorial Research. "Ruth Bader Ginsburg Fast Facts." CNN, Cable News Network, 19 Sept. 2020, www.cnn.com/2013/03/07/us/ruth-bader-ginsburg-fast-facts/index.html. 
3"Ginsburg's Death on Rosh Hashanah Especially Significant for Some Jewish Americans." U.S. News & World Report, U.S. News & World Report, 19 Sept. 2020, www.usnews.com/news/top-news/articles/2020-09-19/ginsburgs-death-on-rosh-hashanah-especially-significant-for-some-jewish-americans. 
4History.com Editors, History.com Editors. "Ruth Bader Ginsburg." History.com, A&E Television Networks, 21 Sept. 2020, www.history.com/topics/womens-history/ruth-bader-ginsburg. 
5Moniuszko, Sara M, et al. "Ruth Bader Ginsburg Becomes First Woman to Lie in State: 8 Other Strides She Made for Women." USA Today, Gannett Satellite Information Network, 24 Sept. 2020, www.usatoday.com/in-depth/life/2020/09/24/ruth-bader-ginsburg-8-things-she-did-womens-rights/3502065001/. 
6Press, The Associated. "A Look at Judge Amy Coney Barrett's Notable Opinions, Votes." AP NEWS, Associated Press, 27 Sept. 2020, apnews.com/article/immigration-us-supreme-court-courts-gun-politics-donald-trump-35952597b427fe95b4099a798d5836e4. 
7"Ruth Bader Ginsburg." Oyez, www.oyez.org/justices/ruth_bader_ginsburg. Accessed 24 Sep. 2020.
8"Ruth Bader Ginsburg." Wikipedia, Wikimedia Foundation, 25 Sept. 2020, en.wikipedia.org/wiki/Ruth_Bader_Ginsburg. 
9Sherman, Mark. "Barrett Could Be Ginsburg's Polar Opposite on Supreme Court." AP NEWS, Associated Press, 27 Sept. 2020, apnews.com/article/ruth-bader-ginsburg-us-supreme-court-courts-gun-politics-antonin-scalia-726bd0316cd646927b93137575c92966. 
10Totenberg, Nina. "Justice Ruth Bader Ginsburg, Champion Of Gender Equality, Dies At 87." NPR, NPR, 18 Sept. 2020, www.npr.org/2020/09/18/100306972/justice-ruth-bader-ginsburg-champion-of-gender-equality-dies-at-87. 
11Webster, Emma Sarran, and Caitlin Wolper. "8 Essential Ruth Bader Ginsburg Supreme Court Rulings to Know About." Teen Vogue, 19 Sept. 2020, www.teenvogue.com/story/ruth-bader-ginsburg-supreme-court-rulings-to-know-about.
Leave a Comment
About the Contributor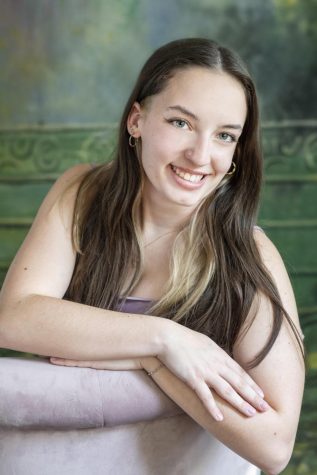 Gabby Landis, Opinion and Entertainment Editor


Gabby is a senior, and this is her second year writing for the Parkland Trumpet. She enjoys writing about politics and current events. She is...