Varsity Girls' Soccer and Volleyball Make a Move onto States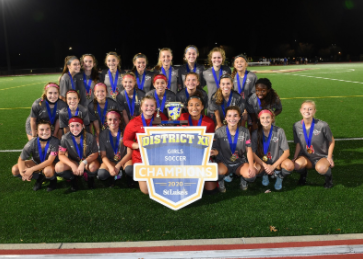 During their 2020-2021 season, both the Varsity Girls' Soccer and Volleyball Teams moved on from the District XI Tournament and made it into PIAA State Playoffs. These teams exceeded expectations this year, especially with the possibility that sports could have been canceled anytime due to these uncertain times. 
The coaches for the Varsity Girls' Soccer Team this year were Alffred Haddad and Assistant Coaches Jim Bus, Lauren Petri, Aly Barlock, and Becky Webster. Both the coaches and the girls are more than pleased with the outcome of their season. Since they train in such a structured environment, they show up to play knowing their expectations for every practice. 
They have evidently achieved their goals while still prioritizing their responsibilities this season. "With me missing 24 days of the most critical part of the season (last game vs Emmaus and all 3 DXI games)  due to COVID and health issues, the 9 seniors, led by senior captains Alex Marsteller, Maeve Leonzi, Jocelyn Fowler and Abby Lytle made sure that each day at training, our level of play was what they knew I would expect," said Coach Haddad, "I don't think I have coached a team over the past 15 years that could have pulled off the end of season success with the coach missing 24 days.  Their dedication and determination to get me back for States was evident daily in their words and deeds." 
Coaching the Girls' Volleyball Team this year are Head Coach Mike Krause and Assistant/JV Coach Jesse Krasley. Every team needs some form of leadership. As team captains Jackie Malitzki, Emily Mohr and Leah Brunnabend kept the team together with an optimistic perspective. By bonding and respecting one another, the team was able to achieve their goals for this season. 
This year was especially challenging for the team due to Covid-19. However, these girls were very responsible in following protocols in order to attain a safe season. "They made some very large sacrifices in their personal freedoms to allow our season to complete un-interrupted.  They deserve a lot of credit for the sacrifices they had to make to allow us to achieve many of our goals." said Coach Krause, "They were outstanding in their commitment to each other."
Through this very challenging and unprecedented season, both Varsity Girls' Teams surpassed their expectations while demonstrating devotion and responsibility in regards to the Covid-19 situation. 
SCORES:
| | | | | |
| --- | --- | --- | --- | --- |
| TEAM | OPPONENT | DATE | RESULT | SCORE |
| Soccer- Varsity Girls | District XI Tourney | November 10, 2020 | Win  | 2-0 |
| Soccer- Varsity Girls | PIAA Playoffs | November 14, 2020 | Win | 3-0 |
| Soccer- Varsity Girls | PIAA Playoffs | November 17, 2020 | Loss | 3-4 |
| | | | | |
| --- | --- | --- | --- | --- |
| TEAM | OPPONENT | DATE | RESULT | SCORE |
| Volleyball- Varsity Girls  | District XI Tourney | October 29, 2020 | Win | 3-0 |
| Volleyball- Varsity Girls  | District XI Tourney | November 3, 2020 | Win | 3-2 |
| Volleyball- Varsity Girls  | District XI Tourney | November 5, 2020 | Win | 3-0 |
| Volleyball- Varsity Girls  | PIAA Playoffs | November 14, 2020 | Win | 3-0 |
| Volleyball- Varsity Girls  | PIAA Playoffs | November 17, 2020 | Loss | 1-3 |
Leave a Comment