A Year in Review and a Year to Look Forward to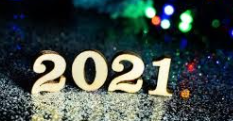 Now that 2020 is finally gone, it's the perfect time to take a look at the events, good and bad, that have happened. Starting off the year, Australia experienced the worst wildfires the world has ever seen. The blaze burned over 47 million acres, killed 34 people, and left thousands without homes.  Also, too many great people have lost their lives such as Kobe Bryant and Chadwick Boseman; not to mention the pandemic. And finally, the one that has affected everyone the COVID 19 . Sheltering in place inside for days on end isn't an easy task for anybody, and can take a toll on mental and physical health. Although 2020 has been filled with many grim events, there were some silver linings. The COVID vaccine has made significant progress and the first recipient of the shot was reported in the UK (also in the US). Space X launched its first two astronauts into space on May 30th with millions of people watching around the world. All in all, 2020 wasn't that great of a year, but certain events can lighten the dark omen that the year brought with it.
2021 is hopefully going to shape out to be a better year than 2020. Already there are some pretty spectacular events to look forward to this new year. The Tokyo Olympics are set to begin July 23rd and last until August 8th. Also, a mars landing is scheduled to take place. Perseverance is a rover created by NASA that intends to land on February 18th and its mission is to observe the chemicals in the rocks on mars. Lastly, the moment we have all been waiting for might take place in 2021: A life without COVID. To be able to hug friends and visit family members is something priceless and it should never be taken for granted. With 2020 behind us, 2021 is looking brighter and more hopeful than ever.