Sneak-peek into the 2021 Parkland Basketball Season
The basketball team takes a leap into the beginning of the season. With a rough start to all winter sports with all the COVID-19 regulations put in place, basketball has defied all odds and was successfully able to start its season. In continuation, the basketball teams are moving forward with their new season.
The girls and boys basketball varsity team had their first game of the season on January 19th. The boys lost to Allentown Central Catholic, but it was still a close game with a final score of 40 (Parkland) to 43 (Central Catholic). The girl's team won against Allentown Central Catholic, with a score of 27 (Parkland) to 23 (Central Catholic).
The varsity boy's basketball head coach, Mr. Stephens, was interviewed by Madison Tewksbury. He was asked a few questions regarding what is to come in the new season and the team goals. He said, "They are just happy to have the chance to play and complete team goals…to be competitive and play up to our potential team and for the opportunity to play." 
The basketball team is excited to compete in this year's season, and according to Mr. Stephens, they have been working well together as a team. "They get along very well and complement each other well…they follow all that is being asked of them" described Mr. Stephens.
A goal Mr. Stephens has for the team is to hopefully play in the playoffs and championships. He was asked who are some players that get the team going and he said, "Trey Tolle and JT Siggins are the only guys returning that played significant minutes last year, we have a lot of younger guys who are ready to compete and play at this level…they have waited for their turn and it's here".
Varsity girls basketball Coach Mr. Ohlson was also interviewed. Mr. Ohlson was asked what the team goals, strengths, and expectations were. He stated, "Our number 1 goal is to stay strong together as a team. We want to have fun while competing at the highest level for division, league, district, and state championships…This is a season unlike any other, our first priority is to stay together as a team. So I'm looking forward to building a strong team where everyone can lean on each other to get through the pandemic together. Whether in practices, games, or zoom calls we want to be able to support our team and teammates…Team strengths include great senior leadership of Lindsay Berger and Sonya Shivok, we have a good experience, all 5 starters played extensively last year. We defend very well and have good team chemistry." 
He was also asked what the team was most excited for this season, and he stated, "I think just to play, it's been 10 months and a lot of isolation for many girls and just to have the chance to compete again is exciting." Mr. Ohlson was also asked if there were any other great team players this season, and he said, "Juniors Zoe Wilkerson and Mo Olenwine are 2nd-year starters who really have improved in their Jr years."
The boy's and girl's basketball season is off to a great start and is showing great teamwork, and perseverance during these times. Now the team is in season and is able to successfully continue through the rough patches and triumph.
For any more information on upcoming games or the names of all the athletes in each team is on the website linked below.
https://www.parklandsd.org/departments/athletics/schedules/team-details/~athletics-team-id/169
Leave a Comment
About the Contributor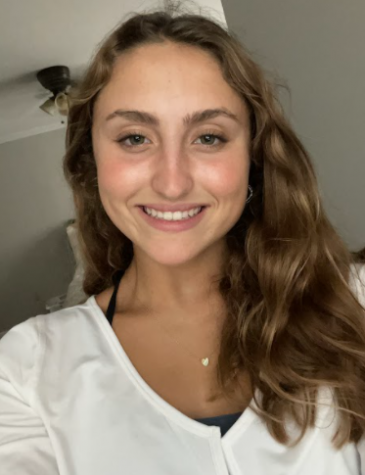 Madison Tewksbury, Editor in Chief
Madison Tewksbury, a Senior, is extremely excited to be a part of the continuing growing Trumpet Newspaper staff for the third year as editor in chief!...