What is Happening in Myanmar?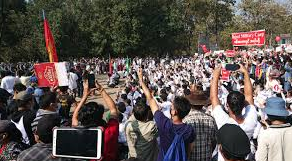 Sorry, there are no polls available at the moment.

Thousands of Myanmar civilians have lined the streets of their nation's largest cities to protest a coup staged by the military body of the state. 

Myanmar, also known as Burma, is a country that had been under strict military rule since it had gained independence from Britain in 1949. In 2011, a more modern government began to take shape and push the country toward democracy. 

This past year, the country held a general election, and the people voted for Aung San Suu Kyi's National League for Democracy (NLD) party, which won by an overwhelming majority. 

On February 1, 2021, just after the election, Commander-in Chief Min Aung Hlaing staged a coup just as a new parliament was set to open. These armed forces are demanding a rerun of the election, claiming widespread fraud, in spite of the election commission determining there is no evidence to support these claims. 

The military has now gained complete control over the country and declared a year-long state of emergency. Forces put Ms. Suu Kyi under house arrest and detained many more NLD officials. 

Min Aung Hlaing now holds power over the country and continues to make the claim that the army has majority support from the people. 

Citizens of Myanmar have joined together in mass protest all across the country. A demonstration in the city of Yangon was the largest protest held in the country since the coup. Protestors and activists marched with red flags to represent their support of the National League for Democracy. 

According to the Assistance Association for Political Prisoners in Burma, in response to protests, the military has arrested over 450 people, imposed a national curfew, forced a national internet shut-down, introduced laws that would increase internet surveillance, and increased the use of force to suppress protesters. 

In response to the news of these protests, United States President Joe Biden has threatened to increase sanctions in the middle east. However, China blocked a UN Security Council statement condemning the coup. The country, which has previously opposed international intervention in Myanmar, urged all sides to "resolve differences," which restricts the U.S. from intervening. 

Citizens in Myanmar are fighting to preserve their democracy, and international awareness of their plight may help to bring them closer to justice. 

Sources:
https://www.bbc.com/news/world-asia-55902070
Leave a Comment
Your donation will support the student journalists of Parkland High School. Your contribution will allow us to purchase equipment and cover our annual website hosting and printing costs.