India's COVID-19 Situation Worsens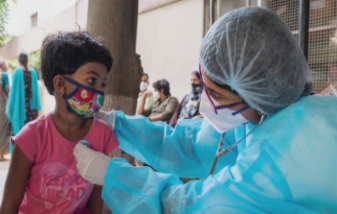 In many countries, such as the United States, COVID-19 cases have begun to rapidly decline due to the timely distribution of vaccines. However, in countries like India, the pandemic is proving to be what we all feared–something that appears to never end. 
At the start of the pandemic, China had the most cases as well as multiple European countries, the  United States and Canada. By the start of 2021, there were approximately 80,000,000 cases worldwide.
During this past February, India was able to get COVID-19 cases down by 90% from the peak of the first wave in 2020. Currently, India has 20 million+ cases. According to statista.com, in the last 7 days,  the United States has 1,751.87 cases per million people. , compared to India which has 160.24 per million people. However, the United States current cases is 32,326,949, while India's is 19,925,604. Overall, India has a death per one million value of 13.01 and the United States has a total death per one million value of 12.21. If you observe the populations of each country, the United States having a population of 328.2 million and a low population density of 92.9 residents per square mile (statista.com), and India having a population of  1.366 billion and an extremely high population density of 386 per square mile (infoplease.com), one can see how the difference in densities can have an impact on the spread of COVID-19 cases. These numbers, in general, reveal the current and past states of both countries. Despite the United States' improving state of COVID-19 cases, its low overall value demonstrates that it is a country with one of the highest COVID-19 cases. Comparably, India saw a state of improvement following the second wave but was hit by a massive surge of COVID-19 cases due to a lack of governance and proper infrastructure and resources.   
Currently, COVID-19 cases are on the rise in India, as the country reported 357,316 cases and 3,449 deaths as of May 3rd. The response from the central government has been anything, but beneficial to the rising cases. The cases first started rising in March of this year. Before this, cases were declining, and the recovery seemed successful enough that the health minister believed it would be okay to declare that India was "in the endgame" (CNN.com)  of the pandemic. In addition to this, the vaccination drive was established in  January. Despite this seemingly strong recovery, by March, cases were reaching new records. 
Currently, scientists and public health workers are begging the question: what happened in India that led to this surge in cases? The WHO predicts that "claims of widespread immunity were probably exaggerated, and health experts say the government's premature declaration of victory over the virus may have sent the wrong message, leading to lax adherence to COVID-19 safety protocols" (globalnews.ca). Another reason could have been the lack of response from the central government. In early March, a group of scientific advisers had warned India's government that variants of the virus were more transmissible and spreading amongst India's population of 1.3 billion. Despite this, authorities ignored the warnings and decided to not put any measures in place. In addition to this other features of India's government policy response including "excessive centralization and top-down control, without coordination between central and state governments; inadequate investment in and preparation of health systems, facilities and personnel; inadequate government spending to increase demand to counter the collapse in economic activity; and class, caste, and gender biases of the policy responses" according to the US National Library of Medicine leading to an uprise in cases and deaths across the region. 
Another not-so-obvious reason for the spread of COVID-19 cases was having lockdown as the only strategy to decrease cases. Many countries established this policy after following the patterns of Wuhan, China. However, despite this strategy that appears to be the only solution to most countries plagued by the pandemic, it fails to take into account socioeconomic situations in the country. For India specifically, almost 95% of its workers are informal, meaning they have no social or legal protection. This also means most workers are self-employed. Due to this fact, the lockdown had a severe impact on the economy where most workers in India rely on work. Even with this knowledge, the central government provided little to no economic assistance. In addition to this, the lockdown policy was unrealistic due to the majority of congested and densely populated urban areas, where "five or more people" were "confined to one room," according to the US National Library of Medicine. In these urban areas, there is also a severe lack of resources and proper infrastructure, including clean water, making it nearly impossible to maintain proper hygiene. 
As of now, the situation in India has become something from a nightmare. Hospitals in Delhi report fatal oxygen shortages, and across the country, hospital beds fill with two or more persons. Besides Delhi, Maharashtra, Kerala, Uttar, Pradesh, Karnataka, Rajasthan, and Chhattisgarh have also been hit hard. Surprisingly, a pandemic that is believed to solely impact the elderly and the ill, has also infected young people. According to New Delhi author and journalist Barkha Dutt, "The virus and its second wave is hitting the younger people, and even children, in a way it had not in its first wave." One possible reason for this, according to Dr. Lancelot Pinto,  could be due to India having a large youth population with the median age being 27. 
According to CNN.com, "Beds, oxygen, and medical workers are in short supply. Some Covid patients are dying in waiting rooms or outside overwhelmed clinics before they have even been seen by a doctor." Even when patients are able to get inside hospitals, they are faced with a severe lack of medical care and supplies. As a response, India's Ministry of Health and Family Welfare has proclaimed that they would expand facilities like Sardar Patel Covid Care Centre with the addition of oxygen supplies and medical experts. Despite this claim, there seems to be no improvement in supplies and medical assistance. In Lala Lajpat Rai Memorial Medical College, there are 55 beds for 100 patients with only five doctors (CNN.com). Additionally, as of late April, there has been a demand of 14 cubic meters of oxygen needed in India's hospitals. Dr. Harjit Singh Bhatti, a medical professional in Delhi's Manipal hospital describes the people needing oxygen as "fish out of water." As a result of the severe oxygen shortage, an oxygen express has been established with trains and the Indian Air Force carrying oxygen and supplies to major cities and hospitals. 
Due to the overwhelming number of deaths, funeral services in India are overwhelmingly busy. As a result, people have had to resort to makeshift cremations and burials. Photos throughout the internet revealed photos of pyres and bodies being burned to keep up with the number of bodies. 
Initially, India's vaccine program was an ambitious one, but it successfully began distributing vaccines across the region starting in January. Despite this, however, only 10% of the country's population have received a vaccination with only 1.5% receiving both vaccinations, according to Global News. India has chosen to use one by Oxford-AstraZeneca (Covishield) and one by Indian firm Bharat Biotech (Covaxin). Besides this, health officials have also approved Russia's Sputnik V vaccine, while also observing other candidates. As of May 1st, the central government has opened vaccine eligibility to anyone over the age of 18. Although this is a massive improvement to vaccination distribution in the country, there have been severe shortages of vaccines. During the past few days, the daily rate of vaccinations dropped from an average of 3.2m a day to 2.3m a day. In order to vaccinate everyone over the age of 18 by this year, India would need to do 7.5m doses every day, according to The Guardian. However, experts, like India virologist Shahid Jameel, believe that vaccine distribution will not be the only solution to the second wave. 
In response to the second wave, lockdowns and curfews have been reinstated with the addition of travel bans. Besides this, India has been receiving assistance in its humanitarian crisis  from countries across the world. Singapore,  the UAE, Taiwan, France, Thailand, Russia, Germany, and the U.K. have all sent oxygen materials to India, and the U.S. has offered to help with supplies as well, as they have sent supplies worth more than $100 million. According to Global News, "President Joe Biden vowed to share up to 60 million doses of its domestically made AstraZeneca vaccines with other countries in the near future, though it's unclear how many of those doses will go to India." 
With rising interconnectedness and the increasingly globalized state of the world, the situation in India proves how rapid the pandemic has spread. "The pandemic has revealed just how interconnected the world is. And if a country has very high levels of infection, then it's likely to spread to other countries" explains BBC Global science correspondent, Rebecca Morelle. Even with the number of vaccinated persons in the United States, there are noticeably more dangerous and transmissible variants being discovered in India, one being B.1.617. Scientists, such as Dr. Jeff Barrett, have found that "antibodies may find it harder to block the virus" according to BBC.com. Additionally, the more cases a country has, the higher the possibility of a variant forming due to the ability of viruses to evolve. Overall, the second wave in India has proved to be a dire one, not just for India, but for the world.
Leave a Comment