Parkland's Very Own Field Hockey Star In the Morning Call
Athletics at Parkland High School are taken very seriously. Only a select few are capable of taking on the challenges of practicing, showing impeccable teamwork skills, and expressing great sportsmanship. The girls field hockey team rises as one of Parkland's top sports. With a junior varsity and varsity team, the girls take on teams around the Lehigh Valley in hopes of winning championships like Districts and the East Pennsylvania Conference. This year, seniors are taking over most of the varsity team for their last season on the Parkland field hockey team. 
Senior, and team captain, Makayla Brunnabend has been taking on the field for her final year at Parkland. With the season still in swing, she has been dominating the playing field. Her game winning shot at home against Stroudsburg last week earned her a nomination for Female Athlete of the Week in The Morning Call. After the field hockey game last Friday at Whitehall, I had a chance to interview her.
Q: So Makayla, how are you feeling about the outcome of this afternoon's game?
A: "I'm happy with the outcome because we all played well together and we started with good intensity. As soon as we got the first shot on the board it was pretty much uphill from there"
Q:What quarter did you score your goal in?
A: "Second quarter. Kira Schaffer assisted".
Q:Have you committed to a college yet or will you be denying offers?
A: "I have not committed yet. I have three colleges but I will be denying offers".
Q:Are you upset that it's your last year playing field hockey for Parkland high school?
A: "At the beginning of the season I was definitely sad going into it because I didn't want it to end and I felt like I got "jipped" last year with not having a full junior season. But sometimes as the games and practices go on I know that I am ready to move on."
Q:Will your coaches miss you and the other seniors when you leave?
A: "Definitely. I think the 15 seniors really made an impact for our coaches first and second years coaching here and I think we will be missed."
Although Makayla did not win Athlete of the Week, she was not discouraged and will continue to play through her senior year. 
I also had a chance to ask Makayla's dad about what he thinks about her recognition. He said that it was an honor and a great opportunity for her. He says although she did not win, he is still very proud of his daughter.
Makayla has received several college offers for her outstanding athletic and academic work. Offers include Alvernia, York, and Lebanon Valley. She's also interested in and has offers from Millersville, Misericordia, and Stockton university.
Leave a Comment
About the Contributor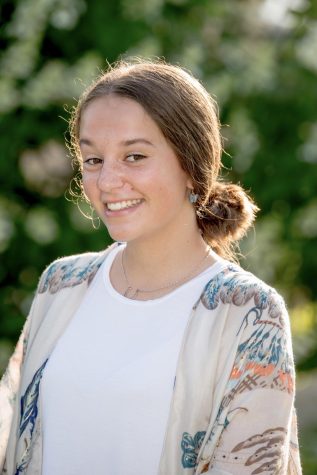 Ryan Englebert, Staff writer
Ryan Englebert is a Junior in her second year in The Trumpet newspaper. She enjoys writing entertainment and feature articles. When she isn't writing,...