Life of The Party
Life of The Party
I want you to think about the greatest rivalries of all time. Like Batman vs Joker, or Spiderman vs Green Goblin, and Michael Jordan vs the Bad Boy Pistons. Now think about who the greatest rappers of all time are. Some may say Tupac, Biggie, Eminem, Nas, Kanye West, or Drake. All of those rappers have had some type of distaste, publicly or privately, with each other. Currently,  Drake and Kanye are two prominent figures in the rap music scene who are publically arguing with each other. 
Drake and Kanye go way back to when they both started their respective music careers. They first met in late May 2009 in Hawaii. But before this encounter, Drake knew who Kanye was and took inspiration from him, as he recorded music over Kanye West beats. Drake always gave respect to Kanye, saying in a 2009 MTV interview, " Before I ever got a chance to meet him, Kanye West shaped a lot of what I do, as far as music goes". So then what happened to these two hip hop/rap giants, and why are they now beefing for top streams in albums and dissing each other in public? In 2018, Pusha T(Drake's biggest rival) released a song called "Infrared" in which he said Drake used a ghostwriter. Drake didn't care about that lyric, Drake was more disappointed that Kanye produced this song that disses Drake, because before this Kanye would go to Drake's concert called OVO Fest regularly. Shortly after this, Drake decided to respond to Pusha T with a song called "Duppy Freestyle". But before this beef, Drake hung out with Kanye in his home in Wyoming to help Kanye West release his album "Ye". To people on the outside, it came as a shock to everyone that Kanye would let Pusha T release this song accusing Drake of this.
Following "Duppy Freestyle," Pusha T responds back called "The Story of Adidon." The song was great, but what was even more important was that it was revealed that Drake had a child. Supposedly it was said that Kanye West told Pusha T about this because when Drake was helping Kanye for his album "Ye," Drake confided in Kanye. That is where their hatred started for each other. 
In 2021, it was announced that Drake would release his long-awaited album "Certified Lover Boy". Shortly after, it was announced that Kanye West would be releasing "Donda," named after his mother. The hip-hop community was ecstatic because the two biggest music artists were dropping albums. Fast forward to July 16th, Pusha T and Kanye West are on Pop Smoke's album called "Faith". In the song titled "Tell The Vision," Pusha T disses Drake again saying, "The crown is for a king they tryna place it on a clown". Multiple people were saying he was talking about Drake because Drake said in an interview that "Certified Lover Boy will be dropping by the end of this summer." Then, on  July 24th, it was rumored that Kanye would drop his album "Donda" by midnight. It was then delayed because it wasn't finished being mixed, but before the release of his album, Kanye announced that he would be doing listening parties for his upcoming album.
These listening parties were so exciting. Personally, I would listen to them and you never knew what Kanye was going to do. At the first listening party, Kanye was an hour late and people were so excited that they didn't even care. Attendees even brought Ziploc bags to these events and sold them on eBay for $3,000. Kanye did not release it that night and more listening parties continued. Kanye had 2 more listening parties after the first one. The second listening party was held in Atlanta, Georgia in the Mercedes-Benz Stadium. This listening party was like the first one where he previewed all the songs but what was different was that at his show he offered a free COVID-19 vaccine to everyone. Out of all of his shows, his third one was the best, he changed up the whole album last minute. He was adding new features like DaBaby, Kid Cudi, Young Thug, and The Weekend all to the last cut for the album. He was also debuting new songs and new instrumentals to already recorded songs. This listening party was in Soldier Field Stadium in Chicago. The reason why Kanye chose Chicago was because that is where he is from and he knew this would be his last listening party for the album so he wanted to make it spectacular. Spectacular couldn't even describe this event, Kanye had his childhood home replicated and built in the stadium. The event started off with pictures of Donda West and with candles surrounding the house. Once the music started playing the candles went out and the show started. During the show, Kanye was projecting images and videos during the songs of how bad the media has portrayed him. During the images and videos showing you can see what Kanye's message was in this album and it was more like self-acceptance within yourself and that family is all that you need. At the end of the show Kim Kardashian and Kanye somewhat renew their wedding, but during this Kanye finally takes off his mask that he has been wearing since his first listening party and smiles. He had two more after the first one and during the one he floated out of it and the other one was in his hometown Chicago where he made them rebuild his old house in Soldier Field Stadium. His album was supposed to release after this event according to Kanye West's manager Bu Thiam but it didn't. Fans were so desperate that fan theories were spreading theories on Reddit and stating, "So here me out. Ye took inspiration from Yandhi. Yandhi is a loose collection of leaks and random fan made mashups…there's been many unofficial "official" albums by other artists…but Ye's concept with Donda is an album that has materialized itself into existence without being officially released". They were claiming that the music was already out because everyone knew the songs and that it was more an invisible album. But then, a new theory brought to the public by the "Jumper's Jump Podcast"  stated that Kanye was waiting for Drake to drop "Certified Lover Boy" and then he would subsequently drop "Donda".
Well, they were sort of right. Kanye West announced that he would drop "Donda " on September 3rd, the same day as "Certified Lover Boy". Kanye West's music record decided to release it on August 29th instead of September 3rd. Now if we compare the albums, personally I enjoyed "Donda" more than "Certified Lover Boy". Donda will be one of those albums when we are older that we will turn to and say it was a classic. Donda was a religious album and there was no cursing at all in the songs. Drake's album was good, but not better than Donda; even though I like Donda better, numbers don't lie. Drake's album outperformed Donda in numbers; it was one of the most streamed albums ever. Just in case you do decide to listen to Donda, the album is an 8/10, and listen to the lyrics in order to understand it. When listening to Drake's, you really only get two styles of him: old melodic Drake and Rap Drake, no in-between. To me, "Certified Lover Boy" didn't impress me only because the people were told that Drake would be rapping, and it sounded more like Drake tried to go for Tik Tok trend songs. With that being said, which album did you prefer? 
Leave a Comment
About the Contributor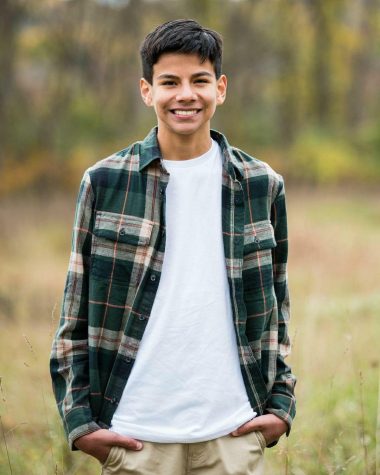 Daniel Franzone, Staff
Daniel is a senior, and this is Daniel's first year for writing for the Trumpet Newspaper. He enjoys writing about sports and a few entertainment articles....