Grading the First 10 picks in the 2021 NFL Draft
Coming into this NFL season, one thing that everyone was excited for was how these NFL prospects were going to perform. One of the prospects that everyone was excited to see was Trevor Lawrence. In 2018 when the Clemson Tigers were entering that season with Kelly Bryant as their starting quarterback they weren't expecting anything less of a National Championship. When Kelly Bryant was struggling mid-way through the season they relied on freshman quarterback Trevor Lawrence. That season Trevor Lawrence proceeded to have one of the best seasons a freshman can have. He was named National Freshman of the Year and won a National Championship that same year. The clock instantly started ticking for this 2021 draft class to see who would draft Trevor Lawrence. With this much hype going into this draft, all these experts thought there would just be Trevor to remember, but these experts couldn't be any more wrong. Going into the 2020 college season, there were some absolute studs that showed Trevor wouldn't be the only one to remember. That is why this 2021 NFL Draft class has been one of the most hyped-up draft classes in these past years, and for good reason. These rookies this season have made a statement showing that they are here to stay and that just because they are young in their NFL career doesn't mean anything. They will play as if they are a 10 year old veteran and make smart decisions. This draft class since day 1 has blown everyone's standards and has left their mark in the NFL as a rookie, and with the NFL season at its halfway mark I thought why not grade the top 10 picks in the draft. Now keep in mind these grades are just based on how they have performed halfway into the season these grades aren't final. 
Pick 1 Jacksonville Jaguars: Trevor Lawrence, Quarterback, Clemson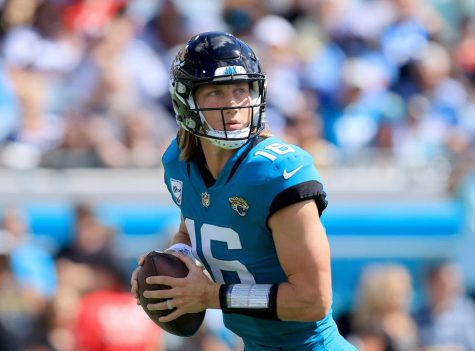 The number one pick in this year's draft has been mediocre and has shown flashes of being a great and good NFL quarterback, but the only thing that has been holding him back this year has been the team. During the first three weeks, Trevor Lawrence was just not the Trevor Lawrence we had seen in college. He was throwing a lot more interceptions than usual and was making really bad reads that he was to blame for, but another part was that in college he had one of the better offensive lines in college which didn't give him the experience of pocket pressure. Since he wasn't used to dealing with pocket pressure at college,  once he got to the NFL, he was getting blitzed, sacked, making bad reads, and turning the ball over a lot. The first three weeks for the rookie were terrible. He was 54.24% accurate and that ranked 34th overall in the league out of quarterbacks. He threw for 5 touchdowns but had 9 interceptions, and had a 60.3 QB rating. Since those first three weeks, he has thrown for 5 touchdowns and 1 interception. This is a big improvement from his first three weeks, he also has 2 rushing touchdowns to go along with his 10 passing touchdowns, has limited his turnovers, and is starting to run the ball more. One big positive for Trevor Lawrence is that whenever he throws the ball more than 20+ yards down the right side of the field he has a higher passing rating than the league average. One major concern that I have with Trevor is that he is flukey. He will do good one game but then will go on a streak of him being average and for being a number one pick you don't want to be average. For example, his bad percentage throws are something to look at where the first three weeks they were more than 20% which is terrible, but then they went down to less than 10% the following week. His passing yards are also streaky, but this isn't all on Trevor it is on the whole team and coaching staff because they have also failed him. As a grade, I give him a B-.
Pick 2 New York Jets: Zach Wilson, Quarterback, Brigham Young University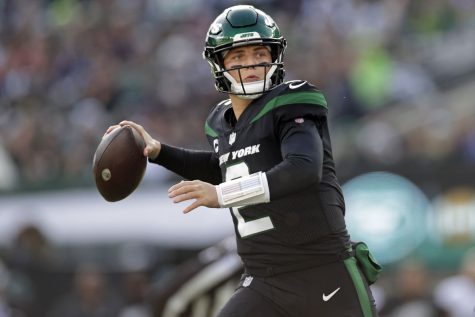 The number 2 pick out of BYU had a good opening debut showing promise to the New York Jets fan base. He threw for 2 touchdowns and 1 interception against the Carolina Panthers to go along with 258 passing yards but since his debut, he has regressed. He isn't all at fault when he has gotten sacked 25 times this season in 8 games, and every time Zach Wilson has dropped back in the pocket he has gotten pressured 27.8%. One thing to blame on him is that he has poorly placed the ball in his receiver's hands with a 19.8% of the ball poorly thrown. Coming out of college he was known for placing the ball into the hands of his receivers, and for being very accurate which he has showcased a little bit but for most of the time he has been pressured into throwing poorly placed balls. Two positives are that because he is still young in his career he still has time to learn from his mistakes, and the other being is that coming out of college he was known for his deep ball and when you look at his Next-Gen stats he has attempted 32 pass attempts for more than 20+ yards and has complete 15 of them and 2 touchdowns which is a really good sign that as a rookie he can throw the ball deep and very accurate. When given time in the pocket which he has been rarely given this season he takes advantage of it and it showcases in his deep ball accuracy 46.8%. I grade his rookie season so far as a C- because he has yet to amaze me except for his week 1 debut and week 4 game. Until he gets an offensive line, he will be in trouble for the next couple of years. This could be another Sam Darnold experience for the New York Jets fan base yet again.
Pick 3: Trey Lance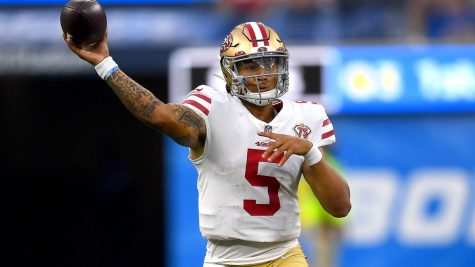 The 49er's have been sticking to their word to where Jimmy Garropolo will be their QB1. Which hasn't given Trey Lance an opportunity to see the field except for 2 weeks of playing time which isn't enough to grade him on. In those two weeks I will say this he showed glimpses of what is to come for the 49er's franchise and it was amazing. He displayed his running and passing ability along with the ability to score, which has been something these rookie QBs have struggled with which is scoring but Trey has figured out a way in those two weeks, plus the one snap against the Lions where he ran it in. As for a grade it is going to be incomplete because not enough games played to grade him off.
Pick 4: Kyle Pitts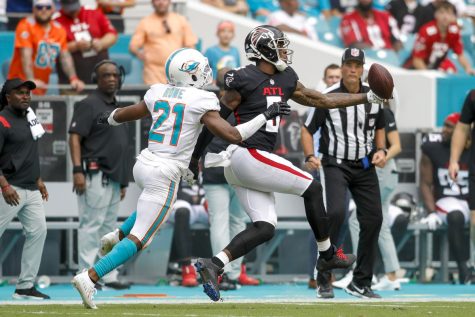 Entering this draft everyone knew that the first three picks would be quarterbacks but after the third pick people were wondering who the Falcons would take. Some people were speculating Justin Fields to possibly replace Matt Ryan or would they take a receiver to replace Julio Jones. Well, they ended up taking a hybrid. What I mean by hybrid is they took a receiver and a tight end in Kyle Pitts. Kyle Pitts is too big to play wide receiver but he is too fast to play a tight end. Entering the NFL one thing people were watching for him was how he was going to be utilized. The Falcons in the first two weeks were trying to get him the ball but then stopped once it came down to week 3. This season Kyle Pitts has had two big games where he put the league on notice in where he had more than 100 yards receiving in those both games. If you exclude those two games he is averaging 42.7 yards which is something he will need to improve on but at the same time, this rookie is constantly being double teamed by the other team since the Atlanta Falcons have no other offensive weapons. One thing that stood out to me is that Kyle Pitts this season has only dropped the ball two times but has been targeted 82 times and has caught the ball 49 times, and has 709 receiving yards and 1 touchdown. For a grade in his rookie season so far I would grade it as a B-.
Pick 5: Ja'Marr Chase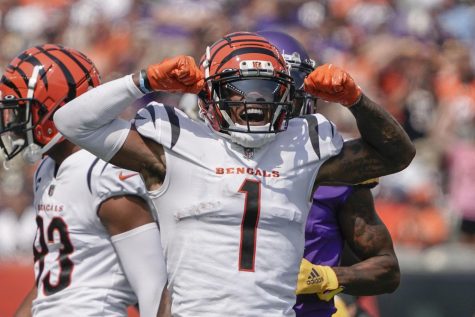 After not playing his 2020 collegiate season Ja'Marr Chase was picked 5th overall and got to play with his old teammate Joe Burrow who he won a National Championship with. Entering the preseason there were many worries with Ja'marr Chase and catching the ball. People were saying he was dropping the ball too many times and Ja'marr even admitted that the ball looked different than a college ball, but he put all those worries to rest once the season started. In Ja'Marr's first game he already had a 100-yard game as a rookie. Just to keep in mind it took Davante Adams 5 games to get his first 100-yard game and Ja'Marr did it in his first game. His rookie season has gone better than expected with him having 958 receiving yards and 8 touchdowns, plus 17.4 yards averaged per catch to go along with his historic season, and has had three 100 yard receiving games this season. He has been a big reason why the Bengals have been doing so well this season is because of Ja'Marr Chase and how he has been such a big contributor to that offense as a rookie. I grade his rookie season as an A-. The only thing that worries me about his rookie season is how he is streaky as in he does good but then will have multiple games under 60 yards. 
Pick 6: Jaylen Waddle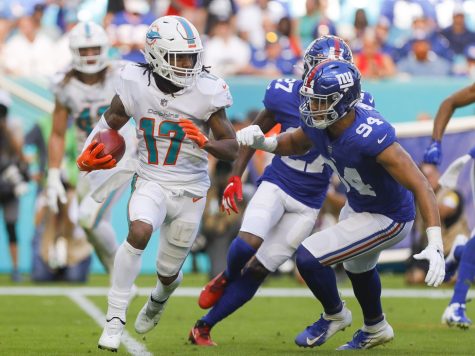 Jaylen Waddle has impressed everyone since his week one debut where he caught 4 passes for 61 yards and a touchdown. Jaylen is versatile where he not only catches the ball but he also runs the ball and returns the ball for the Dolphins. At the beginning of the season, he had issues with dropping the ball but since the first couple of weeks, he has lessened his drop rate to 0% in the past weeks. There have been games where he has done bad but he has been one of the more consistent rookies where you know what you will get out of Jaylen. One thing that people like about Jaylen is the speed and separation that he can obtain. I grade his rookie season as a B because he has stepped into the WR1 role since Devante Parker has been injured but one big concern is that he just doesn't have that many touchdowns.
Pick 7: Penei Sewell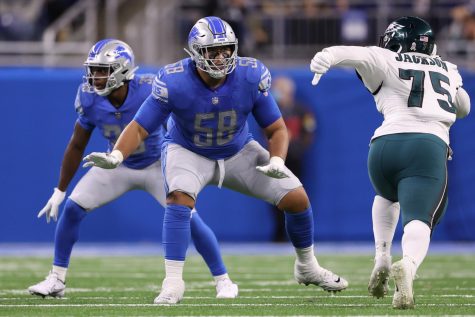 Penei Sewell has struggled early on this season because of a position change. You can't put the blame on him but Penei was then switched back to left tackle because of a Taylor Decker injury and has been good since he has been moved back to his original position and has felt more comfortable in being left tackle. Penei so far into his rookie campaign has only allowed 5 sacks and has had 8 penalties called on him but has played 781 offensive snaps which are good for an offensive line rookie considering all the good defensive players on the defensive line are the defensive ends. As a rookie Penei Sewell has stood his ground, sure he had early-season struggles but that is also due to his position change. Pro Football Focus the holy grail for offensive lineman has graded him as a 75.6 overall this season. As for me, I grade his rookie season so far as a B-. The one big issue the Lions are going to have to learn is what position is he going to play left or right tackle?
Pick 8: Jaycee Horn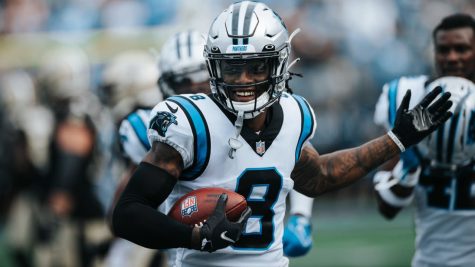 When Jaycee Horn was taken at pick 8 people thought that he was a bit of a reach considering people thought that he wasn't even the best cornerback in that draft, but Jaycee proved everyone wrong in the first three weeks that he played. His season was short-lived though, he ended up breaking multiple bones in his foot during week three but he showed a lot of glimpses of being a lockdown corner in those three weeks. His NFL debut didn't go as planned but he showed promise. He was targeted 4 times allowing 2 completions and 1 touchdown allowed but he played 98% of the snaps. In his second week, he was targeted 2 times, didn't allow a completion, and had an interception. Quite a way to improve from his week one debut. In his third game, he was injured but he was targeted one time and didn't allow a completion. I feel like I could grade Jaycee very high but just like Trey Lance, we were only given a sample of what he could do so his grade will be incomplete.
Pick 9: Patrick Surtain II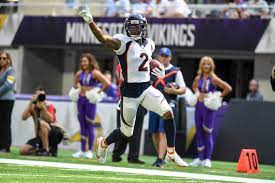 Coming out of Alabama Patrick Surtain was projected to go in the top 10 in the draft. Some considered him to be the best cornerback in this draft, but he was the second cornerback taken in this draft and his rookie season has been nothing but exciting. Coming into the league is hard enough as a rookie but entering the league as a rookie and cornerback one is hard enough because that means week in and week out you are guarding the best receiver on the other team every week and Pat Surtain has lived up to that challenge. He has 4 interceptions this season and has allowed less than 40 receiving yards in 10 out of 12 games played. He has a 47.1% complete percentage rate when he is targeted which is impressive as a rookie cornerback. One big struggle for Patrick is that when he gives up a completion he allows a lot of yardage gained on that play for the other team, he allows 11.3 yards allowed per catch. It could be a defensive scheme. This could explain why he gives up these big plays, but it is worth noting this. Another thing I would like to see him get more involved in is blitzing because that would make him one of the biggest X-Factors in the NFL where every offense would need to keep a lookout for him at all times. I grade his rookie season as an A-.
Pick 10: DeVonta Smith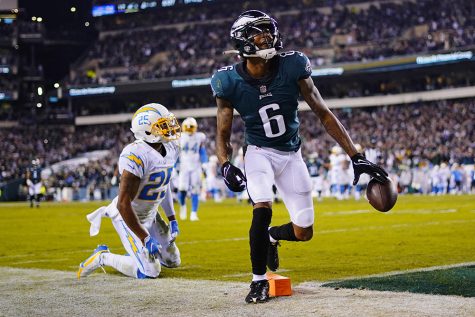 When DeVonta Smith declared for the 2021 NFL Draft all experts had him going as high as the number 2 pick, but as the draft was getting closer day by day. Scouts were all scared about his body build saying that he was too skinny to play wide receiver and that he could fall out of the top 10. This came as a surprise to some, because how could a Heisman Winner who just had 117 receptions and 1856 receiving yards go from being the projected number 2 pick to falling out of the top 10. The answer was that most NFL teams didn't believe his body build would hold up in the NFL, but the Philadelphia Eagles didn't care and they made the choice to take DeVonta Smith and haven't looked back. DeVonta Smith has been wide receiver one for the Eagles just as a rookie and has put up historic numbers for this team. He can single-handedly change the game's outcome and has proven that many times this season, whether it be him distracting the defenses by running a route or getting past the cornerbacks for receiving yards DeVonta can change a game. This season he has 50 receptions for 701 receiving yards and is averaging around 53.9 receiving yards a game. The biggest issue DeVonta Smith has had to face this season is being a wide receiver one. With DeVonta being wide receiver one for the Eagles he always is matching up against the best cornerback on the other team or getting double-teamed. With that being said the Eagles have finally made a solid pick in the first round after losing out on Justin Jefferson and D.K. Metcalf in back-to-back drafts. I grade this pick as a B+.
Leave a Comment
Your donation will support the student journalists of Parkland High School. Your contribution will allow us to purchase equipment and cover our annual website hosting and printing costs.
About the Contributor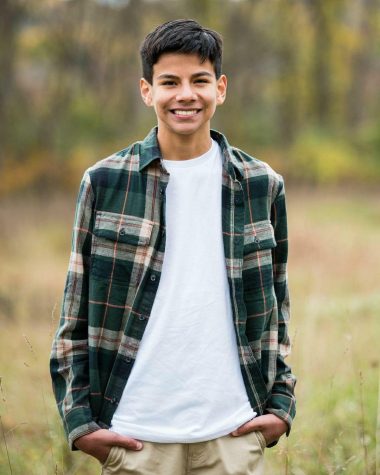 Daniel Franzone, Staff
Daniel is a senior, and this is Daniel's first year for writing for the Trumpet Newspaper. He enjoys writing about sports and a few entertainment articles....