February is Black History month! How does the PHS Black student Union recognize this time?
In 1976, the start of recognizing black history, achievements, and prominent figures was established in the United States. Since then, most countries around the world have also adopted the month of February as Black History Month. February was selected to acknowledge black excellence in our world because Abraham Lincoln's birthday is February 12th. If you paid attention in history class, Abe Lincoln established the Emancipation Proclamation. This document stated that "that all persons held as slaves…are, and henceforward shall be free." Abolitionist and writer Frederick Douglas was also born in the month of February.. With his literature and bravery, he brought light to discrimination and fought for equal rights. He is most famous for his auto-biorgraphy, which most Parkland students read in their freshman year. His written description of his life as a young slave was raw and captivating to any reader. There are not just two figures who inspired this celebratory movement, but thousands of African Americans who make Black History Month a principal time for learning and reflecting on how African Americans have shaped our world today.
While we celebrate black accomplishments within our school, there happens to be a group of students called the Black Student Union at our high school. The Black Student Union was established nationally in 1963 and Parkland has a chapter within the organization. Demi Olatilo and Makaylin Valley are both seniors and are members of the Black Student Union. Here is what they had to say about this special month, what they do, and how they can impact our school.
Demi Olatilo is the Vice President of the Black Student Union. She writes, "Melanie Lowe thought of the idea for the club and invited Makaylin Valley and myself to join her in starting it in 2019. She saw that there was a gap in black culture and history in our school, so she wanted to fill it by offering a space to strengthen Parkland's black community".
"Black history month is a time to reflect on the contributions and experiences of black people in our world's history. However, spending too much time focusing on history will not lead to the progress we need to see in society. While February is known as Black History Month, to me, the emphasis of the month should be the future. Black History Month is a time to celebrate black achievements in the past, but also look forward to how we can create a more inclusive society that lends itself to numerous more black achievements in the future."
"We are working with the TV studio to spread awareness about black history and culture, and we're also planning a special Black History Month event at our next meeting".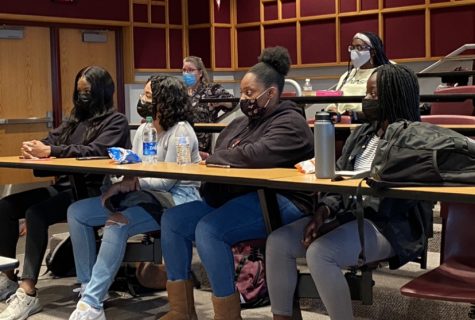 Pictured here is the BSU listening in on Andre Williams, former NFL player and Parkland alumni,  presenting  at a meeting.
 Demi is very involved in what she believes in and takes on a strong leadership role.
Makaylin Valley also writes to The Trumpet, "Black Student Union is a school club. We use the word union because back student unions exist in high schools all over the country so it allows us to in a way be a part of something bigger than just ourselves."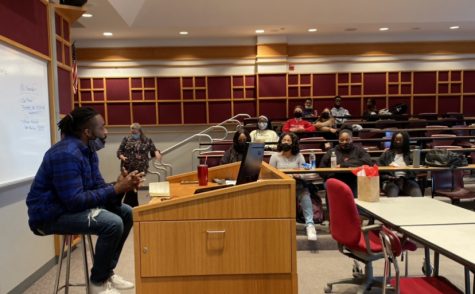 Andre Williams speaking to the BSU.
"The very first Black Student Union was actually created in 1966 at San Francisco State University. Since then, thousands of universities and high schools have created their own Black Student Unions. The BSU here at Parkland was originally Melanie's idea back in 2019 and since then all three of us have built the club into what it is today."
"Black History Month is very important to me. When I was younger, it was really the only time of year that I saw people that looked like me being represented in the media that I had access to. It's also a great opportunity to spread awareness and share knowledge which is a great way of bringing communities together."
"We've really been trying to work with the TV studio on trying to create videos to share with the school about black figures and what black history month is overall. We also plan on decorating the sidewalks with quotes from black influencers in the upcoming weeks."
Leave a Comment