Parkland's PLTW Biomed Students Shine During the 2022 Biomedical Symposium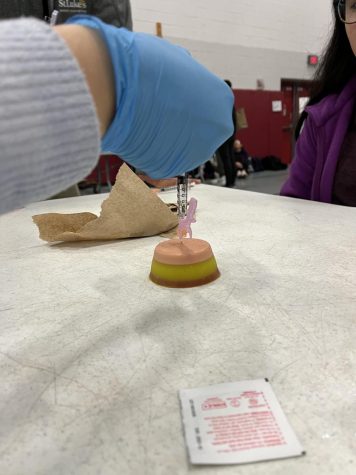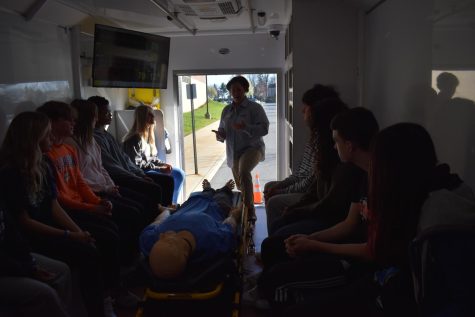 St. Luke's Hospital staff and doctors worked with PHS Biomedical Science teachers (Mrs. Kowalski, Mrs. Litzenberger, Ms. Weidenhammer,  Mrs. Scialla, and Ms. Tiwold) for several months to organize the Biomedical Symposium for the 260 Project Lead the Way (PLTW) Biomedical Science students which was held on April 20, 2022. PLTW is a nationally accredited nonprofit organization that promotes a STEM curriculum for elementary, middle, and high school students. 
Human Body Systems (HBS) and Biomedical Innovation (BI) students were able to take part in a cadaver knee dissection event run by some of St. Luke's orthopedic surgeons and exercise and athletic trainers. They were also taught surgical techniques, attended a surgical demonstration, and taught suturing techniques using various suturing medical equipment and suturing practice pads donated by the Parkland Education Foundation. Sophomore and Human Body Systems student Rishika Bhati's favorite event was the suturing section. She said that "even though suturing can be difficult, it's very similar to sewing and in the end, the experience is very satisfying and rewarding." 
Principles of Biomedical Science students (PBS) and Medical Interventions students (MI) were able to partake in an injection training practice, a talk with "patients" using beside manner, participate in a patient simulation truck, practice hands-only CPR, and get an ambulance tour. In the simulation truck, students were able to ask questions to a mock patient in an emergency setting and work together to figure out what medical complication the patient had. During the hands-only CPR training, students learned how to do proper CPR on babies, children, and adults. Ajla Becirovic and Daniela Fernandez,  juniors and MI students, said that their favorite station was injections because they have never had access to that type of medical equipment,  but actually practicing giving injections on a skin model was a lot of fun! They also thought it was hilarious when the sponge wasn't able to absorb all of the water and squirted it back into their faces. 
BI students, who are all seniors, were tremendously grateful that they were able to have this event as it was originally planned for April 2020 and was canceled due to COVID-19. HBS and BI teacher Mrs. Kowalski said that "all of the St. Luke's Medical professionals were amazing and we all worked so well together to create a one-of-a-kind experience that the PLTW Biomedical students will never forget!"