Let Them Eat Cake!
There is nothing better during the holiday season than decorating desserts with friends and family. And for the French speakers at Parkland High School, they do exactly that. On Tuesday, 
December 13th, the French Club gathered in A135 to garnish some traditional French style cakes. 
The Trumpet attended this event and was able to interview some of the club members on their delicious activity and to find out what exactly a bûche de Noël is. It ended up being a competition between two teams to see who had the best decorated yule log dessert.
Mrs.Hess, teacher supervisor
Q: What is the French club doing today?
A: The French club is decorating buche de noel in a contest to make the best creation and then they are eating their delicious creations.
Q:What other activities does the French club do? What have they done so far this year?
A: They get together to do fun culturally themed activities together. They had raclette. They took bread and put cheese and meat on top of it. The raclette will heat it and then you eat it!
Q:Who do you think will win today's competition?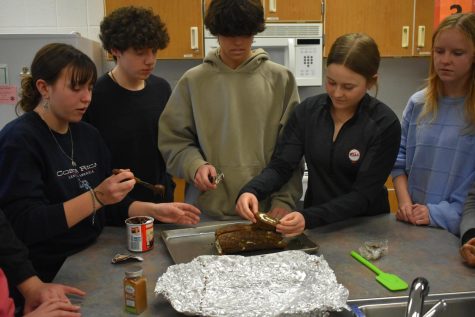 A:We have two strong leaders, Nina and Olivia. I hesitate to say [who will win]. 
Joseli Canela, President of the French club
Q: How many people are here at the decorating event?
 A: We have 21 students joining us.
Q: What is a buche de noel?
A:Yule log cake, or bûche de Noël, is a Christmas cake/dessert. It is shaped and decorated to look like a 3-D log, the cake represents a melding of ancient midwinter traditions: one that celebrated the end of winter, and another honoring the Norse god Thor.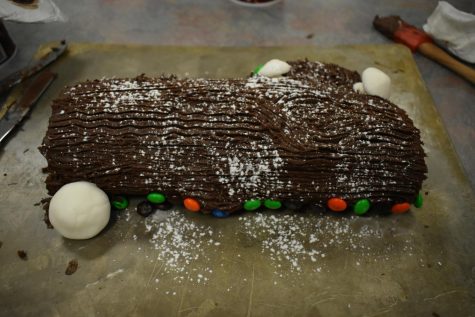 Q:What other activities and events does the French club have planned for this school year?
 A:Some other activities that we have planned for this year is to go to a French restaurant and experience/eat some delicious French food and we'll help prepare the meal, rent out the theater in Emmaus and watch French films while eating French goodies, and perhaps see another play.
Nina Harf, vice president of the French club
Q: What is your role in the French club?
A: My role is to make plans and announcements and make sure everyone feels welcome and is having a good time.
Q: What is going on at the cake decorating activity?
A: At the event, we decorated traditional buche de noel cake with fondant, cinnamon sticks, etc.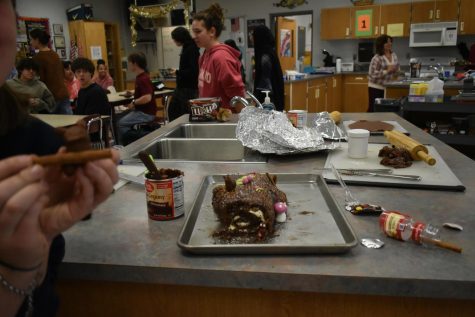 Q:What is your favorite thing about the French club?
A:My favorite thing about the French club is that you don't have to speak perfect French to learn about French history and culture.
It was all smiles and delectable smells as students from all grades decorated these log-like cakes. The group was split into two teams and each decorated a cake to see who would win overall in taste and presentation. In the end, it was a tie and all the students got to eat the sugar-sweet yule log cakes.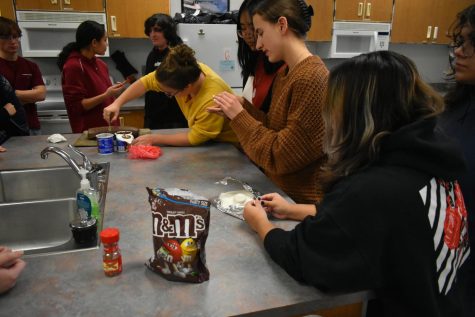 Here is what two students have to say about the chocolate desserts. 
Lizzie Williams, 11th grade: The opposing team cake has a better taste.
Sophie Frank, 11th grade: I think it tastes amazing!
Leave a Comment