Music To Our Ears
Orchestra and Chorus Members Reflected upon Their Hard Work This Year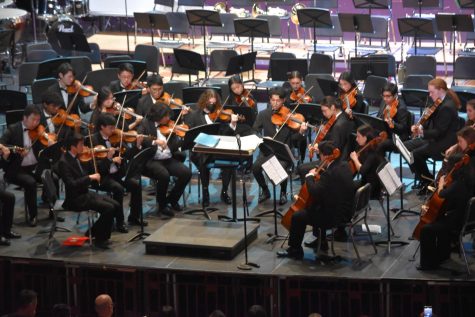 Every winter, the high school's orchestra and chorus's hard work reaches its culmination in their winter concert. Dozens upon dozens of students perform the pieces they have practiced for countless hours, putting on a show for an audience amazed by the talents of these musicians.
Parkland High School's orchestra produces beautiful music, but a lot of work goes into the sensational sounds we hear. "As a group, we play every single day for one period, and we also have dress rehearsals leading up to the concert, which are three hours each time," notes Sophie Elijovich, a sophomore cellist. Daud Tariq, a senior violist and Vice President of Parkland's Orchestra, remarked, "During the week, what I typically do is head down during my lunch period, and I would just eat lunch for maybe 10-15 [minutes], and then practice the other half."
The Parkland High School's chorus also faces challenges in harmoniously honing in their great singing voices. "We have to first memorize the lyrics and melody, make sure that we are in tune with our own voice parts and in harmony with others, and there's the matter of the smaller details to perfect like dynamics, accents, and vowels," reveals Swarna Suresh, a sophomore singer and violinist. "The main one is working together as a team with the choir you're in to make sure everyone's voice blends nicely together and making mental and physical markings of notes Mrs. Lagan gives us," remarks Francesca De La Vega, a sophomore singer.
No matter how they utilize their musical talents, all of the students have strong feelings about performing. For some, like sophomore violinist Tariq Shahid, the feeling is jubilation.  "We've been rehearsing so much since school started and now our hard work pays off!" exclaims Shahid. For others, there is a feeling of amazement. "It's a magical feeling to be on stage and see the lights dim, to having the spotlights on the stage and getting ready to make music," remarks Suresh.  And for others, it's a feeling of satisfaction for a job well done by the Orchestra as a whole. "It's kind of amazing that all of the individual sections of the orchestra are able to play together," comments Elijovich.
All the time and dedication the students put into their craft paid off this December. Congratulations to the Parkland High School chorus and orchestra for a job well done!
Leave a Comment
Your donation will support the student journalists of Parkland High School. Your contribution will allow us to purchase equipment and cover our annual website hosting and printing costs.
About the Contributor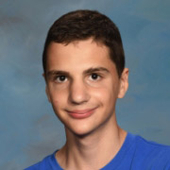 Max Averbach, Staff Writer, Online Editor
Max, a junior, is excited to be entering his second year as a member of The Trumpet staff. He currently is one of The Trumpet's two KSJC Representatives...