After a long restless night of not nearly enough sleep, there's nothing like starting your morning with a delicious, comforting, highly nutritious bowl of sugary cereal. Okay, it might not be highly nutritious, but most cereal has grains – which are a major food group that are supposedly good for you. That being said, cereal is a versatile food – some consider it a breakfast, lunch, dinner, and even a midnight snack. 
There are many different assortments of cereal to fit your craving. Whether you like sweet and fruity Fruit Loops, crunchy and chocolatey Cocoa Puffs, sugary and versatile Frosted Flakes, or the "old-person" healthy cereal that is Raisin Bran, there's something for just about everyone. When asked about her favorite cereal, self-proclaimed "cereal-fanatic", Layne Moughan (11), told The Trumpet, "Cheerios [are my favorite] because they're good with any type of fruit and not insanely sugary for like 6 in the morning."
Cereal is comforting and can offer childhood nostalgia. There's nothing like enjoying a giant bowl of sugary cereal perched in front of the TV while watching Saturday morning cartoons, or enjoying a bowl for a midnight snack after a long night of cramming for your exam the next day. (Not that our staff recommends procrastinating on an assignment, but, if you do find yourself cramming, cereal can be a good motivator.) 
However, the ultimate question surrounding cereal does not have to do with cereal itself. The real debate: Should milk or cereal be poured first? Maitri Ratanpara (11) told our staff her opinion on the debate, "Cereal goes first, duh, because I like a little soggy cereal, not super crunchy." Emily Mericle (10) shares Ratanpara's opinion, citing "It's just logic." Layne Moughan (11) explained her logic behind pouring the cereal first, saying, "Cereal first because if you do milk first it splashes everywhere, especially if you use dairy-free milk because it's less thick. I am an almond milk crusader."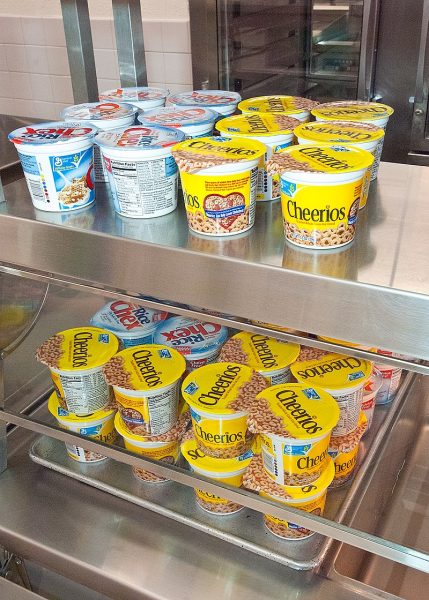 It's a common belief that cereal should be poured first. A poll by Spoon University showed that 95% of people surveyed believe that, "the appropriate way to eat cereal was to pour the milk into the bowl only after the cereal has already been put inside of it" (DiAntonio). However, those who pour milk first, believe it helps make the cereal less soggy (DiAntonio).
The verdict is that: the proper way to eat cereal is by pouring the cereal first. Are you passionate about the cereal debate? Do you have a favorite type of cereal we must know about? Is it insane to pour milk first? DM us on Instagram @ParklandTrumpet to tell us your opinions.