Two standout seniors, Trey Tremba and Talia Zurinskas, have one more season to represent the Parkland Trojans because next year these two athletes will be playing at the collegiate level.  Both Tremba and Zurinskas have already announced their intentions to continue their academic and athletic careers at Division 1 programs. Zurinskas shoots the lights out of the gym every time she steps on the court for Parkland Girls Basketball. Meanwhile, Tremba has become a nightmare for opposing defenses to try to tackle on the football field. They have both received many offers from Division 1 programs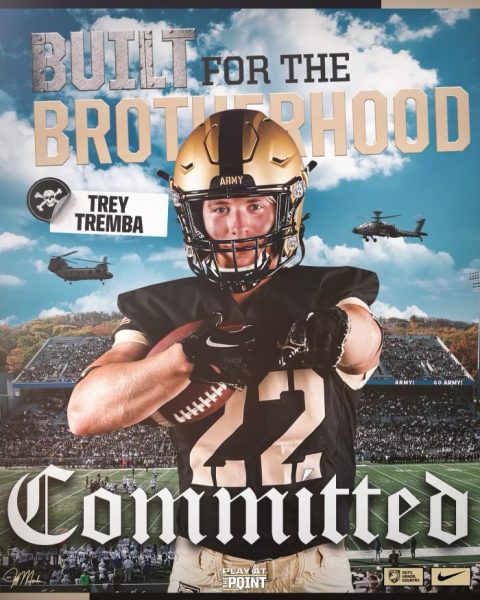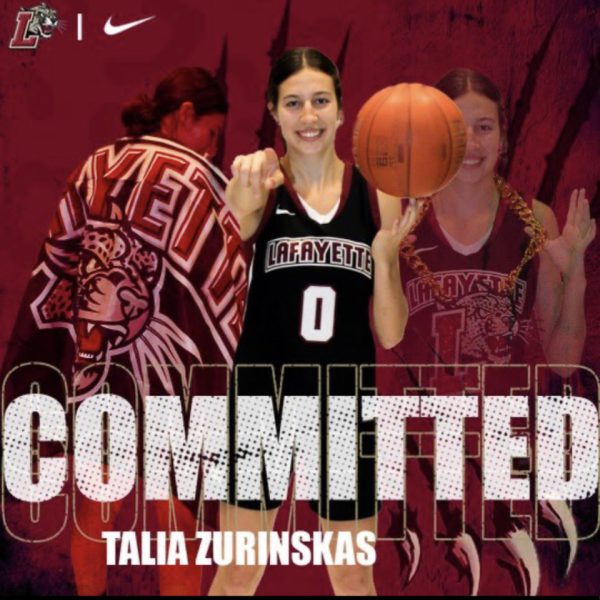 but already knew where "home" was this summer.  Tremba announced his commitment on July 30, and Zurinskas announced hers a day later on July 31. College and football is not all Tremba decided to commit to. He is going to attend Army West Point, which means he will attend military academy for four years, followed by serving his country in the United States Army for five years. On the other hand, Zurinskas has chosen to stay close to home to attend Lafayette College and play basketball.
Zurinskas has had plenty of time to showcase her skills. She has been playing on varsity since her freshman year; however, that wasn't the only way she gained interest from college coaches.  Zurinskas also plays for Lehigh Valley Fever, an AAU basketball team. She is on their 2024 National Team. This elite team goes to many tournaments, where college coaches are often in attendance. She also attended many college showcases to continue to put her phenomenal skills on display. If college coaches were not able to watch her play live in games or at a showcase, they could watch the highlights she posted on X. 
Similar to Zurinskas, Tremba has been playing on the varsity football team since his freshman year and has attended several college football camps to showcase his attributes. College football coaches seek out the fastest and strongest players. Tremba was a standout on the powerlifting and track teams, and videos of him sprinting the 100-meter dash at Parkland's track meets and powerlifting impressive weight can be viewed on his X page.
Q&A with Trey Tremba and Talia Zurinskas 
Q: What advice would you give to high school athletes trying to get recruited?
Trey's Answer: "If you don't sacrifice for what you want, what you want becomes the sacrifice."
Talia's Answer: "I would tell them to put the hours in outside of practice. If that's waking up early in the morning to do something or staying late after practice, do something to separate yourself from the competition."
Q: What was the most difficult thing in your recruiting process?
Trey's Answer: "Getting the attention of higher-level coaches."
Talia's Answer: "Finding the right fit. I visited lots of schools and each one had their own special quality that was different from the last. Take your time combing through the pros and cons of each school because that for me was the most challenging part. I chose Lafayette because I wanted to help build a program into a championship-winning team and I wanted to be around the best people and at Lafayette I had the strongest connection with the coaching staff and players which separated it from other schools recruiting me. Plus Lafayette felt like a family."
Q: What do you think was the turning point of your recruiting process?
Trey's Answer: "Junior football and track season."
Talia's Answer: "The coach at Lafayette took a lot of time recruiting me and getting to know me as a person. I got to see the type of person she was outside of the gym. We would go get lunch together frequently and I would talk to her on a regular basis. When it came time to make a decision I knew that we had the strongest connection and I wanted her to coach me in college."
Q: Did you learn any life lessons in the recruiting process?
Trey's Answer: "Hard work and patience will pay off."
Talia's Answer: "1. I learned how to communicate with coaches on the phone which I was nervous about doing at first. 
I learned how to trust the process. In the beginning, I was frustrated when I was putting in the work but didn't have any looks from coaches. My dad continued to say over and over – trust the process. He was right and I'm glad I did. 

I learned how to be reflective and honest with myself after each game to get better. I would watch film and identify the skills I needed to improve. 

Most importantly, I learned how to be more grateful for my family, my team, my coaches, my gifts, and the incredible opportunities in front of me."
Q: What role did your coaches play?
Trey's Answer: "They helped me develop into a better player. They connected me with a lot of coaches and guided me to make the decision best for me."
Talia's Answer: "Coach Ohlson gave me the opportunity as a freshman to play on varsity. He let me make mistakes and learn from them. He demands a lot out of me and holds me to a high standard but I love that about him and he coaches me hard which has helped me through my high school career."
Q: "Do you think that a social media presence is vital for an athlete in the recruiting process?
Trey's Answer: "Yes, If you want to get coaches' attention you have to actively showcase yourself."
Talia's Answer: "No I honestly don't think posting offers and visits is necessary. Yes, it's important to be known but I don't think that every offer or visit has to be posted. My club had posted my first offer, but after that, I kept it off social media until it was time to post my commitment."