The Atlanta Falcons vs. Jacksonville Jaguars game was broadcasted in a magical, fun, new world that is brilliant for sports marketing. The game was played on Sunday, October 1st, in London, and could be watched by fans on ESPN+ or Disney+. The alternate Disney+  version was not a regular football game. It was broadcasted live from Andy's Bedroom in the Toy Story Universe. 
It may have seemed like the Falcons had 'a snake in their boots' as they got beat 23-7. Though it was a blowout, the buzz about this game was from 'infinty and beyond' as many people were talking about this eccentric broadcast. Yes, it might have seemed extraordinarily odd, but that is because it wasn't meant for adults. The target audience was the kids who wake up in the morning to watch cartoons. Kids were able to watch the football game from the world of a Disney classic. For the NFL, it's an incredible method to reach a younger audience and increase the amount of viewers. More viewers equals more customers watching the game and purchasing merchandise. Although it may seem like a genius idea by the NFL, this isn't the first time a marketing method like this has been done. Nickelodeon did their own kid-centric broadcast last year in the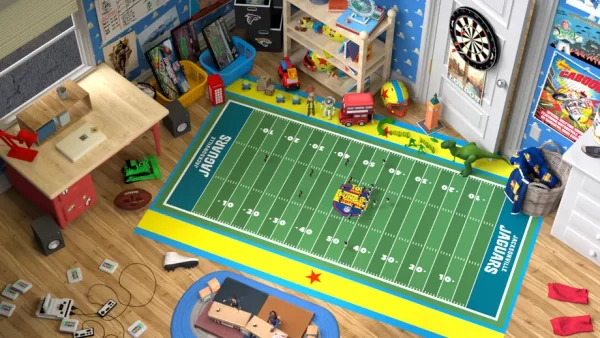 Wild Card Playoff. This game featured the Dallas Cowboys and San Francisco 49ers. Between CBS and Nickelodeon, this game averaged 41 million viewers.
Taking a sports game and transporting it into a kids movie opens up a whole new concept in the sports marketing world. It is a way for sports leagues to generate more revenue by simply making the game more entertaining for kids. These alternate broadcasts are extremely expensive for these companies which is why they aren't common. However, with how successful they are it wouldn't be surprising to see more games from different Disney or Nickelodeon worlds.