True Crimes that Delve Into the Darkness of the Fashion Industry
This article reports on content that may not be suitable for all viewers. Topics include suicide, murder, mental health, and serious injuries. Reader discretion is advised.
The highly loved and coveted fashion industry has been notorious for having a dark side, but some aspects of its origin are darker than others. The world of fashion has been overtaken by an accumulating list of odd mysteries and incidents. From the hitman coordinated death of Maurizio Gucci, all the way to the suicide of Ruslana Korshunova, all of these high-profile predicaments have showcased the tragic reality of death and despair. Below are six of some of the eeriest and most vicious episodes of crime in the fashion industry. 
To start off on this horrific journey of the abyss known as the fashion industry, we have Vittorio Missoni, heir and former CEO of Missoni Fashion House, which his parents started in 1953. On January 4th, 2013, Missoni was on a plane with his wife and two other associates, taking off from Los Roques and en route to Caracas, Venezuela. On that day, the plane disappeared from all radars and on June 27th, 2013, it was confirmed that Missoni's plane was found in the Caribbean Sea with no survivors. Over the course of the investigation, it emerged that the pilot had an expired medical certificate and the airline had not received authorization to operate. This simple mistake ended up costing the lives of all of the passengers on that fateful day. 
Next up is the Russian Socialite fraudster Anna "Delvey" Sorokin, the one woman notorious for defrauding banks, hotels, and the elite of Manhattan. This case specifically is incredibly unique from the rest discussed here because of how calculatingly genius it was. For context, back in the summer of 2013, Anna traveled to NYC for New York Fashion Week, ended up staying, and created her fake identity. Anna created the backstory of being a wealthy German heiress and invented the idea of the Anna Delvey Foundation – a private members' club and art foundation – and proposed said foundation to New York's elite, including Aby Rosen and Roo Rogers. This idea ended up failing, so she then decided to obtain money by creating fake bank statements that showed she had access to about 60 million dollars stored in Swiss bank accounts to put this as a loan application for 22 million dollars to City National Bank. She failed to provide the banks with statements and kept moving on to other investors before giving up. Failing in her attempts to scam others, Sorokin checked into the 11 Howard Hotel and never paid her bill, instead giving staff members hundred-dollar tips for small tasks as compensation. The hotel became suspicious and she was later on evicted in 2017. She continued this similar scam at the Beekman Hotel and the W New York Union Square, but she was evicted both times and the Beekman and W hotels pressed charges. She was arrested in a sting operation on October 3, 2017, and later on convicted with eight charges, including grand larceny in the second degree, attempted grand larceny, and theft of services. In April 2019, she was sentenced to 4 to 12 years in state prison, fined $24,000, and ordered to pay restitution of $199,000. 
Continuing on this morbid journey, we have Russian Supermodel Ruslana Korshunova. Ruslana was a Kazakhstani model of Russian descent. She made her mark on the modeling world by posing for magazines such as Vogue and for designers such as Vera Wang and Nina Ricci. On June 28, 2008, at around 2:30, Korshunova died after falling from a ninth-floor balcony of her apartment in the Financial District in Manhattan. Her death was ruled as a suicide after local police did an investigation. When Ruslana's friends were asked about her mental state, they all said she was on top of the world and had no purpose for committing suicide. However, one certain concierge noticed something was off. Muhammad Naqib stated "I was shocked when I saw her on the pavement. She was on the road, small and pitiful, in a puddle of blood, surrounded by a crowd. Her arms and neck were broken. Only the next day did I realize what was wrong. It was her hair! It was much shorter than when I last saw her that night, lively and happy. It seemed like it was cut in a hurry since the ends were uneven." British TV producer and filmmaker Peter Pomerantsev theorized that Korshunova's suicide was related to her involvement with Rose of the World, a Moscow-based cult which describes itself as "training for personality development." When researching for a documentary into Korshunova's death, he learned that the model spent three months going to sessions at Rose of the World. The sessions encouraged participants to share their worst experiences and recall repressed memories. Korshunova attended the sessions with Ukrainian model Anastasia Drozdova, who committed suicide under similar circumstances in 2009. Their friends reported changes in behaviour after several months at the Rose. Korshunova became aggressive, while Drozdova experienced violent mood swings and grew reclusive. After three months of training, Korshunova left to look for work. Rick Ross, head of the Cult Education Forum, said that organizations such as Rose of the World "work like drugs: giving you peak experiences, their adherents always coming back for more. The serious problems start when people leave. The training has become their lives—they come back to emptiness. The sensitive ones break." 
Up next, we have Gianni Versace, founder of Versace Fashion House, whose death was caused by spree killer Andrew Cunanan. Gianni was known for Versace which became a global sensation, with designs featuring intricate designs, vivid colors, bold prints, and fresh cuts. He combined 'luxurious classicism with overt sexuality." Gianni built the empire from the ground up with the help of his siblings Donatella and Santo. However, one July morning in 1997 changed everything. On July 15th, 1997, Versace went to take a walk on Ocean Drive to receive his morning magazines. Normally, an assistant would do this for him, but he chose to do it. As Versace was climbing the steps of his Miami Beach mansion, a man dressed in a gray T-Shirt, black shorts, and a white hat shot him in the head with a .40 Caliber. At 9:21 a.m, he was pronounced dead at Jackson Memorial Hospital. It was later identified that Andrew Cunanan was the killer. Apparently, he had murdered four other men including real estate developer, Lee Miglin. He was obsessed with Versace and bragged about his friendship with Versace, even though this was more of a delusion of grandeur. He continuously claimed to meet celebrities and be friends with them. Eight days after the murder, Cunanan committed suicide on a houseboat. 
Last, but most definitely not least, is Maurizio Gucci himself, former head of the Gucci Fashion House. What started as a journey to riches for Maurizio turned to tragedy. Back in 1972, Maurizio moved to New York with former wife Patrizia Reggiani to work with his uncle Aldo Gucci. He continued to go through the ropes of the business but moved back to Milan, and in 1983, he launched a legal war against Aldo for control over Gucci after becoming Gucci's majority shareholder following the death of his father. Later on, in 1986, Gucci fled to Switzerland to avoid prosecution after Aldo accused him of forging his father's signature to avoid paying inheritance taxes. Gucci ended up selling 47.8% of Gucci to Investcorp. In 1989, Maurizio was made Chairman of Gucci and with the pay raise came extraneous spending. Maurizio Gucci was blamed for spending extravagant amounts of money on the company's headquarters in Florence and Milan. In 1993, he sold the business for $170 million to Investcorp. On March 27th, 1995, Gucci was shot by a hired hitman on the steps outside his office as he arrived at work. His former wife Patrizia Reggiani was convicted in 1998 of arranging the killing, using tarot card reader Pina Auriemma to find hitmen eligible for the job.  According to prosecutors, Reggiani's motives were a mixture of jealousy, money, and resentment towards her former husband after he filed for a divorce and demanded shared custody over their child. They argued she wanted control over the Gucci estate and wanted to prevent her former husband from marrying his new partner, Paola Franchi. The impending marriage would have cut her alimony in half. Reggiani served an 18-year sentence (which was originally 29 years). The Italian media dubbed her as "The Black Widow" for placing the hit on her husband. 
These morbid events just go to show the reality of one of the world's most noteworthy industries. What is seen as a world filled with glitz and glam actually has some horrifying elements to it that no one would see coming.
Leave a Comment
About the Contributor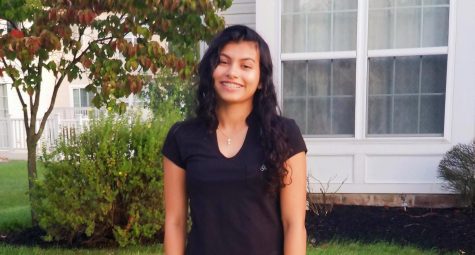 Gianna Rivera, Co Editor-in-Chief

Gianna is a senior in her second year in the Trumpet Newspaper. She likes to write different pieces about anything ranging from fashion to politics....