New York Fashion Week Takes the Reigns of the Fashion Industry
It's finally that time of year once again. Young and old designers and fashion houses get their own creative outlets to show their greatest collections of the year, culminating their best work into one week- Fashion Week. To sum it up in a nutshell, Fashion Week is where the industry's most innovative and known designers present their own collections through presentations and runway shows. Designers such as Moschino, Tommy Hilfiger, Tom Ford, and Nicole Miller have all been able to showcase their talents at these coveted events. When people hear of Fashion Week, they immediately think of New York City. While this may be accurate, New York City is only one element of Fashion Week with it being part of the "Big Four." This group of cities comprises London, Milan, Paris, and New York City, the main fashion capitals of the world. Fashion Week occurs twice a year with the seasons being in the beginning of the Fall and the beginning of Spring. 
While millions of people would go to the utmost depths just to get into these coveted shows, others have been able to find a more approachable way to get the ultimate Fashion Week experience. Brands such as Tom Ford, Gucci, and Tommy Hilfiger have all had volunteers work their events in terms of the behind-the-scenes work. These volunteers work as styling assistants which basically means that they are the ones behind getting models in their outfits, lining them up, and working with them to provide a positive experience. Volunteers use this unique experience as a way to connect with heads of the fashion industry and gain internships that could be useful to their fashion-driven careers. Some of the biggest shows from the past week were Coach, Carolina Herrera, Victor Glemaud, and Christian Siriano. 
Coach used a Stranger Things-themed aesthetic as their set design, with lighting representing nightfall, and the main set is a series of small frame houses on a street. Combined with this set, Coach does a phenomenal job of portraying its theme well with essential styles such as oversized tees and corduroy pants, baby-doll dresses in a spree of colors, some dark '70s-style leather coats, and vests made from reconditioned leather. Stars such as actor Angus Cloud and rapper Megan Thee Stallion were shown in the front row.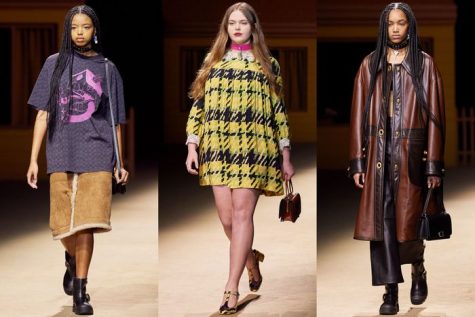 Carolina Herrera designer Wes Gordon headlined a phenomenally effortless show with stars such as Ariana DeBose, Sabrina Carpenter, and Alisha Boe all coming to see the works of art. Gordon's collection showcased florals, flamenco skirts, and catsuits. For the set design, Gordon stuck with a simple white runway and white background in order to draw attention to all of his pieces. Towards the end of the show, Gordon saluted house patternmakers Miro Hermes and Francois Bouchet who are retiring this year.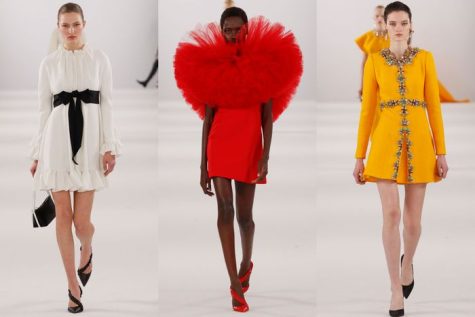 Using Ousmane Sembène's 1966 film Black Girl as a theme of inspiration, Victor Glemaud delivered an exceptional runway show with a polished collection featuring an all-Black cast with each of the models wearing a head wrap that matched the solid colors of the outfit. Victor used both neutral and bolder colors such as black, white, café au lait, and tangerine. Glemaud utilized the theme of the 60s era in order to deliver understated, immaculate outfits, with some fur coats here and there to contrast.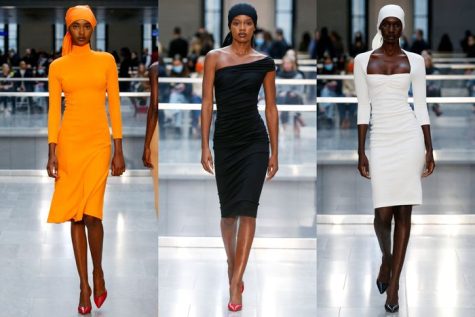 Last but not least for show-stopping runways, Christian Siriano, former Project Runway winner turned world-renowned fashion designer, Christian utilized the color blue in a multitudinous amount of ways. By showcasing zesty dresses and suits with vinyl-looking fabrics in the shade petrol blue, dark denim in form-flattering shapes, and flowing gowns in pleated silk, Christian was able to deliver incredible simplicity which formed an overall cohesive runway show. In his front row, actresses Susan Sarandon, Drew Barrymore, Alicia Silverstone, and Hannah Waddingham (of Ted Lasso) were seated at the Empire State Building. Christian made sure to feature women of all figures and puts them with beautifully flattering looks.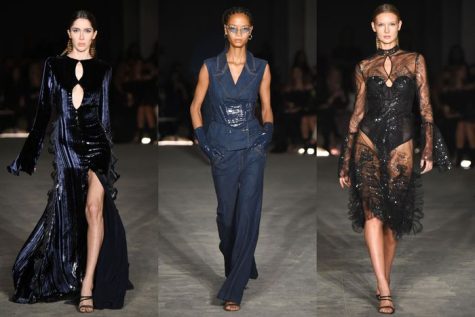 Former Parkland High School student Heaven Rivera has been one of the lucky few to gain a volunteer opportunity at New York Fashion Week. During her time at Parkland, she was part of the S.A.D.D Club, Orchestra, and the Fashion Club and she graduated in the class of 2020. Heaven is now a student at the Fashion Institute of Technology in New York City studying Fashion Business Management for her Associates and Direct Integrative Marketing for her bachelor's. I was fortunate enough to have the opportunity to interview her and see her outlook on Fashion Week. 
Heaven has been adamant about being in the fashion industry as soon as she was born, saying that it was "something that I was just incredibly passionate about." Heaven was able to obtain her position from some personal connections she gained while studying at the Fashion Institute of Technology. One of her dorm mates was conversing with her about NYFW opportunities and alumni from FIT (Victor Glemaud) happened to reach out and notified them of opportunities.  As for her experience at NYFW, Heaven said "It was incredibly fun and hectic at the same time. I loved being able to meet the other volunteers and some of the models but it was also incredibly stressful when it came down to the final 5 minutes before the show because that was when all the last minute things were getting done."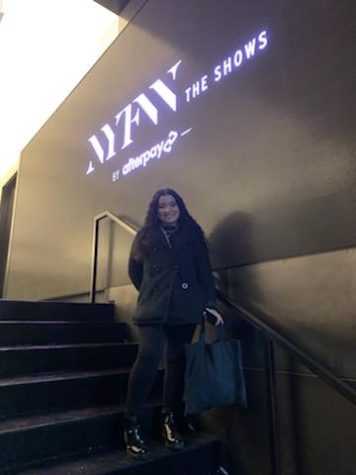 Leave a Comment