NBA Western Conference Offseason Grading
With the NBA offseason coming to an end and with the preseason starting up. Now is the time to review each team in the Western conference's offseason and give it a grade. I will then do an Eastern Conference grade then too, once this article gets published. Then, once the season starts, there will be another article about what to look for with the upcoming season. For now, it is time to grade each team's offseason.
NORTHWEST:
DENVER NUGGETS: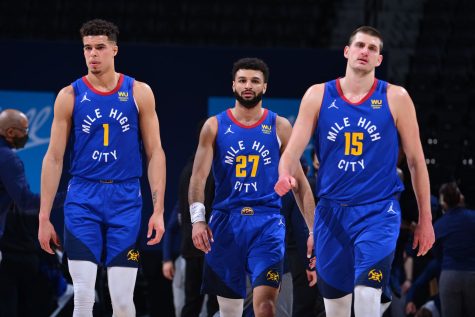 The Denver Nuggets offseason has been somewhat decent. They didn't splash over a free agent, but they didn't lose any key players except for Paul Milsap. They didn't need to do much to improve considering they were a favorite to win the championship until Jamal Murray tore his ACL. But with Paul Milsap's departure, that gives more minutes to start rising player Michael Porter Jr. Ever since Micahel Porter Jr. has entered the league, he has been dominant on the offensive side of the game. He has improved so much compared to his rookie season with his ppg and VORP going up. The team was better with him statistically with them having a +8.2 on offense when he is on the court and playing defense they are +7.4. Considering they just extended him to a max $207 million deal, I would expect him to take a larger role. Another secret weapon they have is Bol Bol. People may think I am joking but I am not. Whenever he gets his chance, he takes full advantage of the opportunity. His per 36 minutes is a clear example that he takes full advantage of his abilities, with his prior season being 15.5 ppg. The Denver Nuggets ranked 8th in total offensive points scored with 115.1 points scored per game. They also ranked 8th with points allowed per game allowing 110.1 points scored per game. Considering the league average of points scored per 100 possessions was 112.3. The Denver Nuggets were one of the teams last season that did a lot of good work and finished well above 112.3 points per game.  Overall I grade this offseason as a B+ because they were able to retain Michael Porter Jr. and give more minutes to their younger players, giving them time to develop.
MINNESOTA TIMBERWOLVES: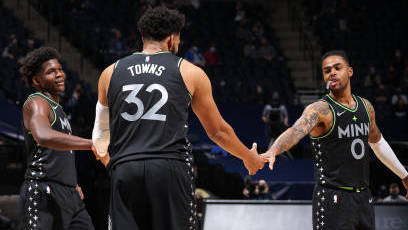 The Minnesota Timberwolves season in 2020-2021 was disappointing, to say the least. This was a team with so much promise yet they had one of the worst records in the NBA. They have a young big three with Anthony Edwards, Karl-Anthony Towns, and D'Angelo Russell. They also have an excellent 3 and D player in Malik Beasley. The real question is; what happened to such a talented team? A lot of it had to do with injuries and D'Angelo Russell being traded to the Timberwolves while only playing 25 games with Karl-Anthony Towns. This offseason the Timberwolves were trying to target free agents like Paul Milsap and Alex Caruso. They couldn't land one big free agent but with trading, they were able to trade for Patrick Beverley, Taurean Prince, and a second-round pick along with an MLE (Mid-Level Exception). The Timberwolves had to trade Jarret Culver who they had high hopes for but couldn't do anything for the team. He started to get placed out of rotation and would only come in when the team was losing badly. A fact about Culver was that he did so bad that the Timberwolves were worse when he was on the court and were down by -3.4 points, and during the rookie season he was -11.0. He only contributed on the defense side of the ball and it proves in the stats because his win share for defense is 1.1 which isn't too much but is better than his offense which is -1.2. I hope Jarret Culver can improve with the Memphis Grizzlies, but I don't see that happening because of rotation issues. They traded away Ricky Rubio who was their starting point guard but was just too much for them. He was a good mentor for Anthony Edwards but Ricky Rubio's per 36 was really bad even for him. His ppg went down, every stat possible went down from the previous season. He went from averaging 15.1 ppg to then averaging 11.8 ppg, then attempted 10 field goals a game and only made 38% of them. His 3 point percentage per 36 was one of the lowest since his rookie season, it was 30%. They then traded Juancho Hernangomez who had bad tensions with the front office and wanted to leave after they didn't let him play in the Olympics. In return, they got an excellent big man in Taurean Prince who can shoot a 3 and plays excellent defense. They also got Patrick Beverleywho has a high 3 point percentage and is an elite defender. Overall I rate their offseason a C+ because they didn't get a big free agent and didn't get anyone in the draft.
OKLAHOMA CITY THUNDER: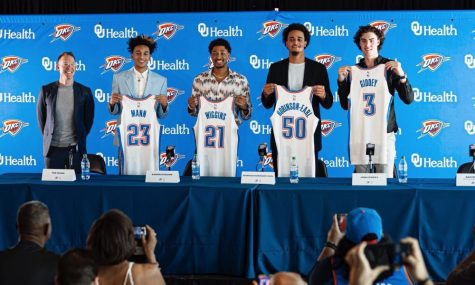 The Thunder were a team that was also a very disappointing team that didn't have too much hope and didn't get the offseason that they wanted. The Thunder have an interesting team because they are so much under the cap space where they can take on multiple max contracts, and they develop their players. For example Lu Dort, but this isn't about Lu Dort this is about their offseason. It has become a meme in the NBA Community how the Thunder have every single draft pick but it seems that that is all that they care about is picks but what happens once that plan fails? Well, it happened. The Thunder had one of the worst records in the league and if you were like me and watched the Draft Lottery you would have thought the Thunder would end up top 3 but they ended up with the 6th pick. Their plan failed and all the hopes fell down the drain once Thunder fans realized they weren't going to get Cade Cunningham, Jalen Green, and Evan Mobley.  They ended up with Josh Giddey which I don't want to make any assumptions about a rookie that hasn't played in an NBA game but James Bouknight was the better overall prospect at that pick. Later on, during the 2021 draft, they got Tre Mann which was a pick that makes no sense since they already have point guards. The only good part of their offseason was that they got rid of Al Horford and Kemba Walker's contract, and gave Shai-Gilgeous Alexander a contract extension. Overall the offseason that Thunder fans wanted didn't work out with Cade Cunnigham and SGA as their backcourt. I rate their offseason as a B only because they were able to get rid of Al Horford's contract and Kemba Walker's and still gave SGA a contract extension.
PORTLAND TRAIL BLAZERS: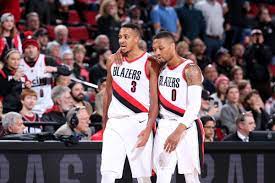 This offseason for the Trail Blazers was one to remember not only were fans happy and scared at the same time but they are realizing that Damian Lillard needs help. It was reported earlier on in the offseason during the Olympics that Damian Lillard requested a trade out of Portland, which came as no surprise to anyone considering NBA fans have been pushing for Damian Lillard to request a trade. The only thing Damian Lillard has ever asked for is more help. How does the front office respond? They end up getting Mason Plumlee, and Larry Nance Jr. Larry Nance isn't that bad of a player; he was traded more for defense since the Trail Blazers defense last year was horrendous. The Trail Blazers let teams score 116 ppg which was ranked 29th worst in the league. He just isn't that big of a player to make Damian Lillard stay. They were able to re-sign Norman Powell to a 5 year $90 million deal. Overall their offseason is rated a B+ only because Damian Lillard stayed, they are getting C.J. McCollum back and healthy and didn't lose a big free agent.
UTAH JAZZ: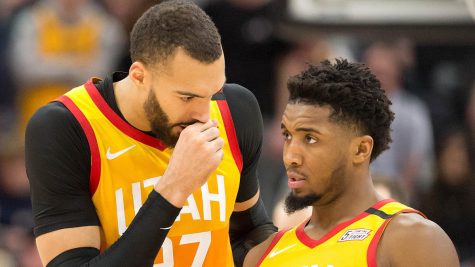 The Jazz didn't need to do too much to get a good offseason considering their team is already a finals contender. Their offseason ranked 3rd in offensive team scoring and 1st in defense which means they limited their opponents to scoring and were the best team in the league to do it. What did they decide to do though they went out and got Rudy Gay who is one of the better defenders in the league? Signed Hassan Whiteside and re-signed Mike Conley.  The Hassan signing is very underrated only because he has accepted his role as coming off the bench, he is one of the better defenders in the league and is signed to a very cheap contract. Mike Conley is very underrated especially for someone who just made his first all-star last season. This team is very deep in-depth and shouldn't have an issue with bench problems, scoring, and defense. The Jazz I expect to be a 1 or 2 seed in the West and I expect them to finally make it to the Finals or close to it. This offseason I rate it as an A- because they didn't lose any big free agents while being able to get a good defender in Hassan Whiteside and retain Mike Conley, then sign Rudy Gay to a cheap deal for him.
PACIFIC DIVISION:
LOS ANGELES LAKERS: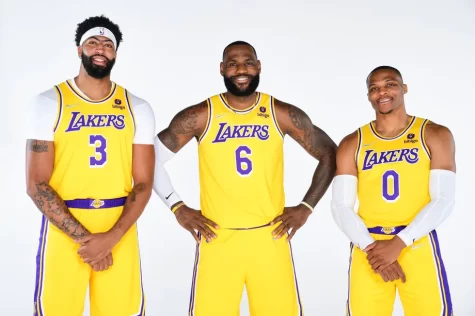 This is a team that has completely changed. They made a lot of changes this offseason. The only Lakers remaining on the team from last season are LeBron James, Anthony Davis, and Talen Horton-Tucker. That means the rest they signed this offseason during free agency and traded for and let me just say Lakers nation should be excited because of this offseason. Not only did they get rid of Kyle Kuzma but they got rid of Montrez Harell for Russell Westbrook. Let me repeat all it took was Kyle Kuzma for Russell Westbrook. The Lakers also went out and got Dwight Howard again who accepts his role and still can produce with rebounds who should help out the Lakers offense net rating who rated 109.9. They went out and got Kendrick Nunn to a cheap deal for him who is a good three-point shooter and along with that plays really good defense and whose OWS and DWS is positive. I mentioned Russell Westbrook earlier who they traded for Kyle Kuzma. Russell Westbrook averaged a triple-double last season and is a way better player than Kuzma. The only issue I can see for the Lakers this upcoming season is the team as a whole because let us be honest both LeBron and Russell Westbrook are ball-dominant. They did say though that they have had meetings and that they will both put their egos away, but let us not forget Russell Westbrook's history when he has another star who is ball dominant. Look at KD they were able to make it to the finals but after that, it was Paul George who they couldn't seem to make it past the Trail Blazers. Then it was James Harden but the team had issues all over the place, then it was Bradley Beal and they finished 8th in their conference. He doesn't tend to do well with other stars but I don't think this will be like all the others because he has a chance to win a ring. I think the only remaining issue for the Lakers is their 3 point shooting because LeBron is an average 3 point shooter same with Russell Westbrook. The only person on that roster right now with a high 3 point shooting percentage is Kent Bazemore whose per 36 is 40%. The Lakers off-season I rate as an A- because they went out and got a superstar in Russell Westbrook while being able to trade away Kuzma, Harrell, and Cadwell-Pope. They then have a deep bench and all are capable of playing elite defense. 
LOS ANGELES CLIPPERS: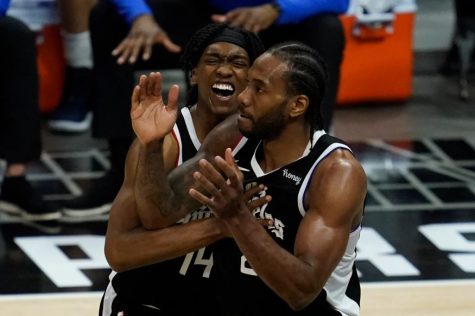 This offseason for the Clippers wasn't the worst but wasn't the best. To me not only did you get rid of Patrick Beverley but you didn't resign Rajon Rondo and he ends up going to your biggest rival. It is almost like they don't want to be in consideration for a championship. If they were to win a Championship, last year should have been their year but injuries knocked them out. The Clippers' offseason went like this: they re-signed Paul George and Kawhi Leonard while taking on Eric Bledsoe's contract which is one of the worst at $18 million instead of keeping a good point guard for way less. They were able to retain Nicholas Batum and Reggie Jackson, during the draft they were able to target good prospects who if given the right time to develop can become solid players. Overall I will give them a B only because they got the right prospects in the draft while being able to retain Paul George and Kawhi to long deals, then bring back Batum and Jackson. The only issue is Kawhi Leonard will miss a huge part of this upcoming season because of his injury that occurred during the playoffs against the Suns.
GOLDEN STATE WARRIORS: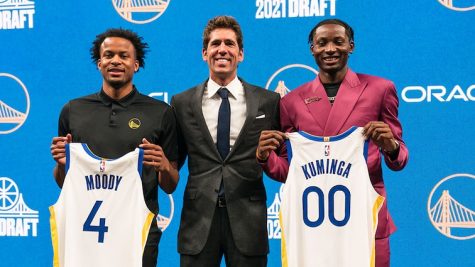 This offseason for the Warriors was excellent then bad. The reason I say good is because with both of their lottery first-round picks they were able to get Jonathan Kuminga and Moses Moody who is an excellent 3 point shooter. Jonathan Kuminga is a 6"8 power forward who can guard 1-5 on any giving night, his struggles though were offense but that shouldn't be that big of an issue considering that when you are on the Warriors which is known for scoring all you need to do is play defense to be a big contributor and the rest will come as he will learn. Moses Moody is a 6"6 guard who can create his own shot and can shoot the ball well while still playing defense. The Warriors then went out and got free agents of their own in Otto Porter Jr. who is still good and is one the better defenders in the league and knows his role. After losing Kelly Oubre Jr. the Warriors brought back an old face in Andre Igoudala who I think can still be good coming off the bench. Then with getting Klay Thompson back this off-season almost went perfect. That was until Andrew Wiggins said that he wasn't getting the vaccine. California is one of those states that are requiring the vaccine and because he doesn't have it he won't be able to play in the home games for the Warrior's and won't be able to play in New York either. Other than that I grade the Warriors off-season as a B+ because they got a lot of offensive threats while getting good defensive players in return.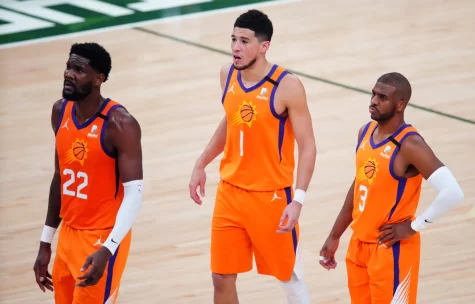 PHOENIX SUNS:
Just a couple of months removed from losing the finals the Phoenix Suns made a couple of moves during free agency. They re-signed Chris Paul to a 4 year $160 million extension and re-signed Cam Payne who was their playoff hero during the playoffs. They signed Javale Mcgee and traded for a three-point threat in Landry Shamet. Other than that their offseason has been dry. I grade their offseason as a B.  I could argue that them paying Chris Paul is a huge overpay because they will be paying him $40 million at age 40 but that is an argument for another day.
SACRAMENTO KINGS: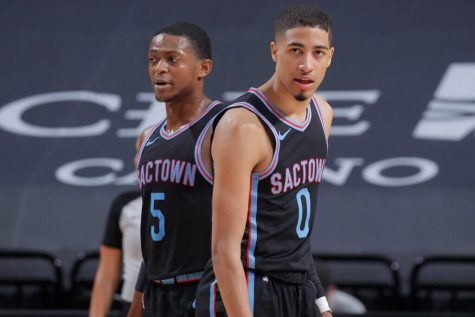 The Kings can never seem to do anything right, but this offseason they did something right. They drafted Davion Mitchell who was one of the most NBA-ready prospects because of the 4 years he had in college. That was also one of the reasons why he fell to the Kings so late was because of his age. During the NBA Summer League Davion Mitchell looked like a defensive threat out there. It did not look fun for the people being defended by Davion Mitchell. Other than drafting Davion Mitchell nothing really special happened all I will say is the Kings are in trouble for the next couple of years. They didn't change the coaching staff which I believe has been the biggest issue for the Kings and didn't get more defensive players. I rate their offseason as a C.
SOUTHWEST DIVISION:
MEMPHIS GRIZZLIES: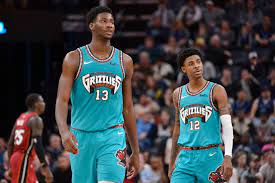 The Grizzlies made a lot of trades during this offseason to help build a surrounding cast around their young point guard in Ja Morrant. They traded away Jonas Valanciunas, the 17th pick and 51st pick in the 2021 NBA Draft in return for Steven Adams, Eric Bledsoe, 10th pick, 40th pick, and 2021 first-round pick. The Grizzlies easily won this trade by a landslide. Not only were they able to get 3 first-round picks but were able to get an elite center in Steven Adams who can help Ja Morrant in the pick and roll. They then traded Eric Bledsoe's terrible contract to the Clippers in return for Daniel Oturu, Patrick Beverley, and Rajon Rondo. They then bought out Rajon Rondo's contract and traded Patrick Beverley to the Timberwolves for Juancho Hernangomez and Jarret Culver. They then traded Juancho Hernangomez then to the Boston Celtics for defensive threats Kris Dunn and Carsen Edwards. Overall they had a really good offseason only issue for them is that they play in the Western Conference but they had a good offseason. I grade it a B+.
NEW ORLEANS PELICANS: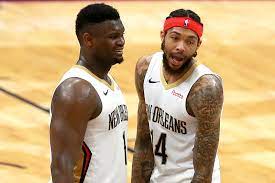 The Pelicans offseason was somewhat decent. The reason  I say somewhat is that they went and got an excellent 3 point shooter in Devontae Graham, and then they got Jonas Valanciunas who is one of the better centers in the league. They did overpay though for Josh Hart, Josh Hart is a 12.1 ppg scorer but his OBPM is also really low and yet to ever break positive. The offseason moves they made were smart except for Josh Hart, but they weren't able to re-sign Lonzo Ball which I think will hurt them in the future because Lonzo and Zion were starting to develop good chemistry. Lonzo leaving them will hurt them considering he was averaging 8.4 assists per game and was an overall good point guard for them. I rate the Pelicans offseason as a B because they were able to get rid of Eric Bledsoe's contract and were able to get Jonas Valanciunas.
HOUSTON ROCKETS: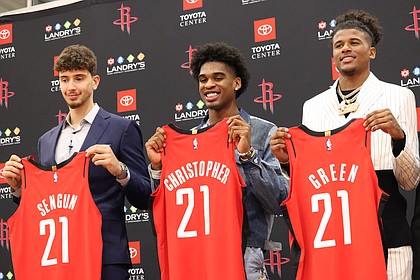 The Houston Rockets had a really bad season and had one of the worst records in the NBA. This is crazy because they went from having James Harden, Christain Wood, and John Wall. So what went wrong? What went wrong is that once James Harden demanded a trade it all went downhill until the Rockets traded for Kevin Porter Jr. Kevin is one of the better players from the 2019 draft and I stand by that. He to me should have been a top 10 pick, now that may be a little bit of bias because he is one of my favorite players but he also proves it on the court. For every 36 minutes, he averaged 18.6 ppg and for every 100 possessions, he was averaging 24.4 ppg. He also averaged 9.4 assists for every 100 possessions, so when it came to this season they already knew it was scrapped and they just let him run the offense which may have been the smartest decision they ever made. They let him prove himself and when it came to the draft it was a no-brainer since Cade Cunningham was off of the board they chose Jalen Green. Jalen Green to me should have been the #1 pick. I think if he would've went to college he would've been the #1 pick, but his defensive liability is what held him back. Later on, during the draft at the 16th pick, I think the biggest steal of the draft was when they took Alperen Sengun. Alperen is a forward/center and he shows a lot of promise and proved that during the Summer League when he averaged 14.5 ppg and 11 rebounds per game and on the defensive end he averaged 3 blocks a game.  They also went out and got Daniel Theis which is a signing that made no sense since they already had Christain Wood. I grade their offseason as a B+. What could've got their grade higher was if they traded Eric Gordon and if they traded John Wall, other than that they had a really good offseason. 
SAN ANTONIO SPURS: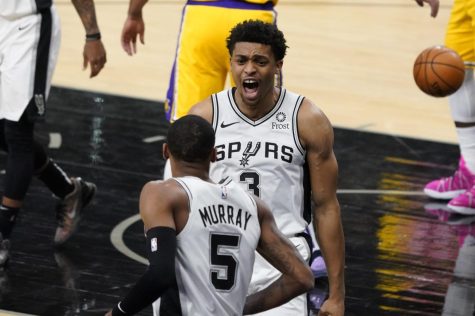 It came as no surprise when Demar Derozan left the Spurs because you could tell from the minute he got there that he didn't want to stay in San Antonio. They did lose a lot of free agents though, they lost Rudy Gay, Patty Mills, and Demar Derozan. They got nothing for Patty and Rudy but they at least got Thaddeus Young, a future first-round pick, and 2 second-round picks for Demar Derozan. During the offseason, they signed Doug McDermott and Zach Collins to deals. Doug McDermott is a 3 point shooter who plays elite defense and Zach Collins is an injury liability. During the draft, they selected Joshua Primo who was a surprise pick considering he was supposed to be a late 1st round pick and an early second-round pick. His potential is untapped though. The reason I would say untapped is that he is 18 years old so he still has time to develop into the player that Greg Popovich wants him to be. Other than that there is not much to be said about him because he hasn't done too much. In college, he was put into a backup role, but he did impress in combine drills which is why he was selected as high as he was. The Spurs have a young core but this offseason went horrible for them. I grade their offseason as a C.
DALLAS MAVERICKS: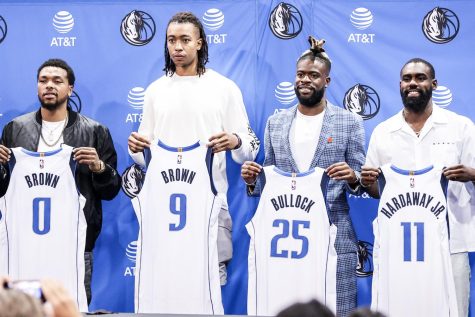 The Dallas Mavericks once again couldn't make it past the Clippers. So what did they do this off-season? They extended Luka Doncic and made multiple trades. During the playoffs, the biggest issue for the Mavericks was that Kristaps Porzingis kept shooting and not playing a big man role. He shot 4-11 game 1, and for game 2 he shot 8-12 but got outrebounded so much that his own point guard had more rebounds than him. In game 3 he shot 3-10, in game 4 he shot well but again got outrebounded. That's how he was during the playoffs either he did good and played no defense or simply was bad still taking shots and still no rebounds. The Mavericks decided to trade for a young Moses Brown this offseason who is known for getting rebounds, his per 36 minutes he gets 15 rebounds a game, and his per 100 is 19.8 which is 20 if you round up. That is more than Kristaps Porzingis has ever had in his career and this is Moses Brown's third year while this is Kristaps 7th year. After the playoffs, Rick Carlise left and they quickly replaced him with Jason Kidd who helped develop Giannis Antetokounmpo into the Superstar that he is. They re-signed Tim Hardaway Jr. and he contributes mostly as a 3 and D player. They signed Reggie Bullock who helps contribute mostly for defense, overall this team struggled with rebounds and that is what they focused on this offseason. They focused on getting help for Kristaps with rebounds and helping with the defense which the Mavericks struggled as a whole.  They ranked 20th in the league for defense. Overall the Mavericks had a good off-season because they fixed holes that they needed to fix. I grade their offseason as a B+.
Leave a Comment
About the Contributor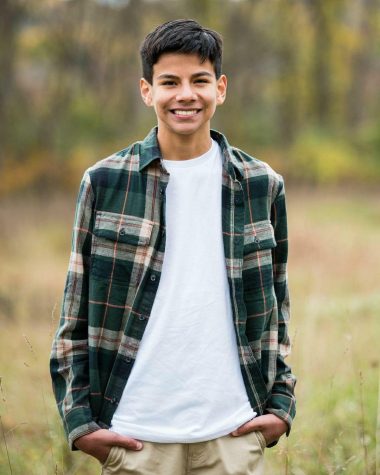 Daniel Franzone, Staff
Daniel is a senior, and this is Daniel's first year for writing for the Trumpet Newspaper. He enjoys writing about sports and a few entertainment articles....