Battle of the beans: hot or iced in the winter?
For many, a cup of coffee is a staple in one's morning routine. A 'cup of joe' helps people obtain the energy needed to get through the day. Mrs. Lagan, Parkland's Choir Director, who might be considered a coffee addict, told our staff, "I drink coffee every morning, and I have a specific kind I like to drink." 
Coffee can be consumed in numerous fashions, as one can choose between the strength, roast, blend of beans, size, additional flavors, sweeteners, type of milk, and iced or hot. The endless arrays of possibilities allow for different interpretations as to how to get the best cup of coffee. While the way to have a cup of coffee can be considered controversial all year round, there is one aspect that is especially debated in the winter: iced or hot coffee. 
Many, because of the cold weather, believe it is inappropriate to drink iced coffee in the winter. Francesca De La Vega, a sophomore, says, "It's weird to (drink iced coffee) in the wintertime, aren't you cold?" Dora Ozcan, a sophomore, told The Trumpet staff that she prefers drinking warm drinks in the wintertime. When asked about her opinion on iced coffee in the winter, Ozcan said:  "It's cold out, why would you drink something that's cold?" 
Others, however, believe it is appropriate to drink iced coffee all year round. Meadow Bracalante, a freshman, told our staff, "Eating cold stuff in the cold is perfectly fine… sometimes a hot beverage is not  the vibe." Caitlin Cohen also agrees with consuming cold coffee in the wintertime. When asked for an explanation, Cohen alluded to ice cream, as she personally does not drink iced coffee: "Even though I don't like iced coffee, I think it's ok to drink during winter. For example, I personally think that ice cream tastes better in winter because it stays cold longer." Sophomore Cameron Laskosky, thinks "you should do whatever makes you happy" and consume iced coffee if you want to.
Some do not have a strong opinion on this debate. Sophomore Liam Ray has mixed feelings on this debate. "On the one hand, it's cold out, so why are you drinking iced coffee, on the other hand, you will be in a warm car or house or school building, so the season does not really matter."  Junior Gabby Gavirati, also shares Ray's opinion, as she thinks hotter drinks are more suitable, but it "isn't a crime" to consume iced coffee in the wintertime.
While the debate about iced coffee in the wintertime may divide coffee drinkers – they can agree on one thing: their love of coffee. Do you like drinking iced coffee in the wintertime? Message us on our Instagram @ParklandTrumpet to let us know!
Leave a Comment
About the Writer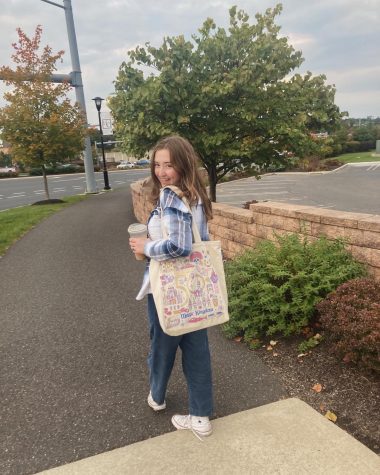 Elsa Hoderewski, News Editor
Elsa Hoderewski, a sophomore, is overjoyed to be writing for The Trumpet this year. As she likes to involve herself in the community, Elsa enjoys student...